Did y'all know that Country music artists have long been associated with their love of animals; horses, dogs, cats…? Country artist Billy Currington dropped a hit single in honor of his dog Paco titled; Like My Dog.  The clever and funny lyrics compare a man's relationship with a woman, to a dog.
Like My Dog lyrics: "He never tells me that he's sick of this house / He never says, 'Why don't you get off that couch?' / He don't cost me nothing when he wants to go out / Want you to love me like my dog."
Judd said, "My pets have always been a very important part of my life. They are loyal, non-judgmental and offer unconditional love. Being the spokesperson for Tour For Life gives me an opportunity to encourage other Americans to share the same happiness." She added, "When considering a new family member, please stop by a local shelter and rescue a homeless pet, they will be eternally grateful to you for saving their life."  Judd has rescued over the 14 dogs over the years.
Country crooner Billy Ray Cyrus has said the two most important things in his life are family and animals. He raised his children on a family ranch in the backwoods of Nashville with horses, cows, chickens, cats and of course, dogs. All of the young Cyrus clan began riding horses at an early age.
In 2008, Billy Ray & Miley teamed up with the American Eagle Foundation; an organization which hatches and releases baby eagles each spring in Pigeon Forge, Tenn. They named two wee baby eagles – Tennessee, for their home state, and Hope (Miley's middle name) and then let the majestic birds go near Dolly Parton's Dollywood. Now if that isn't country good – nothing is!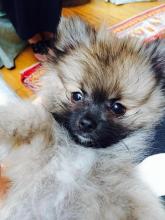 Meet Miley's Moonie!
Animal Fair Media Miley Cyrus Update: Miley has been nursing her achy breaky heart since her beloved dog Floyd died last week. Miley Cyrus was gifted a new pup by mom Tish Cyrus to ease her pain, named Moonie. Miley tweeted, "My mama knew my heart was broken & this morning I woke up to Moonie kisses."
The Country music kind folk have always been bighearted and the biggest supporters of various charities, often raising large donations for worthy causes. Animal lovers Karen Will Rogers and Laura Lacy set out to improve conditions at their local Nashville animal shelter and joined forces with (CMT) Country Music Television, and appealed for help from local country music superstars for help.
The results from their combined efforts fill the pages of the book Music Row Dogs and Nashville Cats: Country Stars and Their Pets, authored by the two women. The book features moving and hilarious testimonials about the importance of animals in the lives of country legends like Wynonna Judd, Billy Ray Cyrus, Trisha Yearwood, and many others,  proceeds generated from the sale of the book benefited Nashville animal welfare organizations, including The Nashville Humane Association.
In 2009, Miranda Lambert founded the MuttNation Foundation; the foundation located in Lindale, Texas is "a donation-supported organization working to end pet suffering and homelessness in the U.S. and abroad." It's supported by a combo of private donations and fundraising efforts, with their mission: 'to ensure that every single dollar donated assists animals in need."
The animal rescue and welfare groups MuttNation focuses on are building better animal shelters, fund spay/neuter programs, train shelter dogs for therapy programs including wounded military personnel and dogs-in-prison programs. Lambert also performs at an annual MuttNation benefit concert. She proudly barked, "So far we've raised nearly $800,000!"
Lambert spoke about her love of rescued animals; "I went to get cherry limeades for me and Blake [Shelton, her husband] and saw this Chihuahua-pug mix running around homeless. So I went back to Blake with two cherry limeades and a dog."
Lambert has rescued dozens of dogs which she fosters until they find permanent homes. She sang; "Rescue dogs give you so much love. They look at you like, Thanks for saving me!" 
Animal lover Carried Underwood was also busy in 2009 helping animals when she founded C.A.T.S. (Checotah Animal, Town, And School) Foundation. She established C.A.T.S., as a way of giving back to her native hometown, Checotah, Oklahoma.


Back in 2011, Underwood's foundation paid for a new animal shelter for her hometown. "My hometown is extremely supportive of me and I feel blessed to be able to create something as a way of giving back; to say thank you," Underwood wrote on the foundation's site.


Underwood's mother Carol Underwood commented, "It funded the building here, and before we had the building, she was funding our spaying and neutering program."
The Checotah town pays for utilities and food, C.A.T.S. pays for all the rest, which equals free adoptions for anyone wanting to save an animal's life. 
"I have always been an animal lover," Underwood told CBS News. "I worked at a vet clinic when I was in college. When I was little I always brought animals into the house, and [nursed] sick animals back to health."
Legendary Country music icon Conrad Twitty gently holding a dog.
Country music's good ole gals and guys have heart … and we sing their animal praises!
For the Best that Pet Lifestyle and Animal Welfare has to offer follow Wendy Diamond on Facebook, Twitter, and right here at AnimalFair.com!
Comments
comments