Looking for puppy love? From finicky felines to darling doggies, pets are not only valued members of the family, but pretty good judges of character.  A pet's approval can make or break your first date!  So what can you do to collar the elusive second date?
Before the first date, paws to consider:
First contact. Where and how does the animal like to be pet? Discerning dogs and cultured cats might hate being touched on their heads.  Stay calm, cool and collected – kneel down and let the animal sniff your hand.  If you get the non-verbal ok, try  petting the soft part of their chest between their legs.
Brownie points – or biscuit points!   Ask if there's a favorite treat you can bring to earn a pampered pet's immediate affection.
Give the gift of play! Bringing a bottle of wine or a bouquet for your date?  Don't forget the pet!  Bring a new toy for the furry member of the family.  Like humans, every animal is different, so try to ask about your potential mate's pet's preferences – squeaky?  chewy? fuzzy?  stretchy?
Furry first impressions make all the difference! Before you step through the door, remember:
While staring deeply into your date's eyes is romantic, making eye contact with a pet could send the wrong message!
Some animals are wary of strangers and find eye contact too dominant. Put a pet at ease by looking down and away while speaking softly and offering your hand, palm down. Let the pet take its time and come to you, without approaching it directly – nobody likes a date who comes on too strong!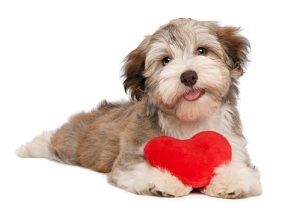 Stranger danger! Some animals won't go near strangers until they have had some time to observe them from afar.  So play hard to get!  Give pets their space, ignore their presence and let them come to you. Playing hard to get might get the pet right where you want them – in your lap!
Direct dogs and curious cats may be too friendly for your liking! Pets don't always have the same good manners as their pet parents, and will leap, lick and overwhelm a newcomer.  While an enthusiastic welcome is a good start, try not to reinforce the bad behavior.  Turn away and don't pay attention to the overzealous pet until all four paws are firmly on the floor. Your mystical connection with animals is sure to impress any pet-owning date.
A little preparation can prove your partner potential to any pet; plus, your consideration will surely impress a doting pet parent. Hopefully you're as prepared for the big date as you are for meeting the pets – but we can't help you there! Remember every breed, every size, every temperament and every age is available at your local shelter! Adopt!
For the Best that Pet Lifestyle has to offer follow Wendy Diamond on Facebook, Twitter, and right here at AnimalFair.com!
Comments
comments