PUPPY LOVE! Celebrations for The American Heart Association's Go Red for Women Red Dress Collection® 2020 fashion show included a guest appearance by the 2019 Westminster Dog Show' Best in Show wire fox terrier GCHB CH King Arthur Van Foliny (KING for short) who strutted down the runway with Entertainment Tonight's Rachel Smith bringing awareness to Heart disease, which does not only affect people but the pups we love so much as well!




Rachel Smith had no problem handling America's Top Dog – in fact, she has her own four-legged pal SPIKE who is her calming companion after a hectic day working as an entertainment correspondent. "SPIKE is just always so happy! He reminds me of elements of Brad Pitt, Jude Law, and Jake Gyllenhaal… cause he's cool, he's smart, he's funny and he has a sophisticated serious side and doesn't always take himself too seriously! LOL" Smith laughs!




The high octane New York City soiree dazzled with a lush red ambiance and plenty of star power that included Tamron Hall (ABC's Tamron Hall Show) and 26 other featured stars including Ali Stroker (Glee and Oklahoma), A.J. Andrews (professional softball player), Bailee Madison (Good Witch and The Fosters), Camille Schrier (Miss America 2020 and doctor of pharmacy student), Constance Zimmer (Unreal and A Million Little Things), Darlene Love (Academy and Grammy Award winning performer), Eva Gutowski (social media influencer), Gretchen Carlson (journalist), Heather Graham (Law & Order: True Crime), Jackie Cruz (Orange is the New Black), Jennifer Tilly (Chucky), Jeri Ryan (Star Trek Picard), Kimberly Williams-Paisley (Father of the Bride), Laura Marano (Austin & Ally and The Perfect Date), Loren Gray (singer), Lyric Ross (This Is Us), Madeline Stuart (world's first supermodel with Down Syndrome), Marin Hinkle (The Marvelous Mrs. Maisel), Nicky Hilton Rothschild (fashion designer), Paris Hilton (entrepreneur), Rachel Smith (Entertainment Tonight), Robin Givens (Riverdale and Ambitions), Roselyn Sánchez (Grand Hotel and Devious Maids), Sara Haines (Strahan, Sara and Keke), Sarah Chalke (Firefly Lane and Scrubs) and Sunny Hostin (The View).


One out of Ten Dogs Has Heart Disease in the United States! Here are Our Tips to Keep Your Pup's Heart Healthy!

Just like us, dogs need to form good habits to maintain a healthy heart! Here are some tips to make sure your canine companion's heart is healthy enough to hold all that puppy love…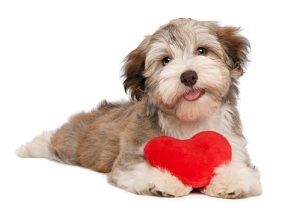 1. Regular Exercise! Keep your pooches blood pumping. Take them for walks or bring them to the dog park! Make sure your dog gets enough playtime during the day to be the puppy they are at heart! Remember: exercise requirements differ depending on the size of your canine so talk to your vet if you're unsure how much exercise Fido should be getting!

2. Healthy Diet! Your puppy only deserves the best- balanced and highest quality pet food out there. Ask other canine parents what they use or talk to your vet about your dog's diet- they can recommend types of food. Lastly, don't let your pup plum up; being overweight makes the heart work harder!

3. Routine Checkups! You should be taking your pup to the vet at least annually (Once a year for your dog is like going once every 5-7 in people years!) While you're there ask plenty of questions about your canine companion's heart and get some tips on how to improve! If your vet hears a murmur, ask about the possibility of heart disease.




4. Look Out for Signs of Heart Disease! In the early stages, your pup may show no signs of having the disease and that is scary. The common signs of heart disease in your canine companion are coughing, difficulty breathing, less playful, depressed/ withdrawn, changes in weight, restlessness, fainting, weakness, or swollen abdomen. If you notice any of these signs, take your dog to the vet!

5. Know your dog! Keep a close eye on Fido as he ages and take note of any changes that cause worry. While your pup gets older so does their heart so make sure you are watching as they age! Also, know your puppy's breed! Some are more prone to heart disease like Great Danes, Boxers, and English Bulldogs!

And a reminder for the humans of the household… Cardiovascular diseases are a woman's greatest health threat. Even though 80 percent of cardiac events can be prevented, cardiovascular diseases continue to claim the lives of 1 in 3 women, accounting for more loss of life than all types of cancer combined. Practicing healthy habits today can help change those statistics. For more information on how you can support the American Heart Association and GO RED FOR WOMEN CLICK HERE!


Comments
comments