15 DOGS WITH THE SHORTEST LIFE EXPECTANCIES
It's not always easy choosing the right dogs to bring home as pets… There are a lot of different facts to consider when you're bringing a new furry member of the family into the house. You may be thinking about things like the dog's temperament, how much the dog will need to eat, and how much exercise the dog needs. Since you'll be loving your new pup just like one of your own, you might be hoping that your new pet will get along with other animals, get along with your human children, and live a long, healthy life. To help you with all this, we've put together our list of 15 dogs with the shortest life expectancies…
1. Rottweiler – 9.5 years
When most people think of a Rottweiler, they have in mind an incredibly strong, tough dog that can dish out serious punishment. No wonder the Rottweiler often gets a bad rap and is seen as vicious and dangerous. In reality it's one of the most loving and affectionate dogs around. It's also a breed that, when not provoked, is very quiet, rarely barking or making other noise. They were often originally made guardians of young children to protect them from rats (back when rats were a normal thing to have in the house… Gross.) Their markings on their face make their eyes look like they're always open!
The Rottweiler has a life expectancy of 9.5 years.
2. Leonberger – 9 years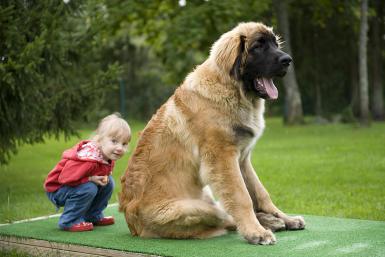 The Leonberger, as furry as they are, falls into the range of large dogs with short life expectancies. They look a lot like a lion, and that's no coincidence – the rumor is that the breeders who created the Leonberger wanted it to look like a wild animal. The Leonberger is a mixed breed dog with characteristics taken from St. Bernards, Pyrenees Mountain Dogs and the Landseer Newfoundlands.
These fluffy friends have an average life expectancy of around 9 years.
3. Scottish Deerhound – 8-11 years
The Scottish Deerhound is a unique-looking dog, and they're known for being really good around children. Deerhounds have longer hair than most dogs, but don't be fooled… They won't shed nearly as much as you think! Scottish Deerhounds are big dogs, so if you plan on bringing one home, make sure you have more than enough space to give one of these guys a lot of excercise!
The Scottish Deerhound generally lives between 8 and 11 years.
4. Irish Wolfhound – 7 years
Irish Wolfhounds were originally used in war – these dogs would carry men from their horses and chariots. These guys are also known to be good hunters, and are able to take down fairly large game. Now Irish Wolfhounds aren't used so much for hunting, and are regarded highly as a great family dog. They are happy, calm dogs, but they love to play when given the opportunity! They're friendly dogs who will give you and anyone who comes into the house plenty of love.
Average life expectancy is only 6 to 10 years.
5. Landseer – 10 years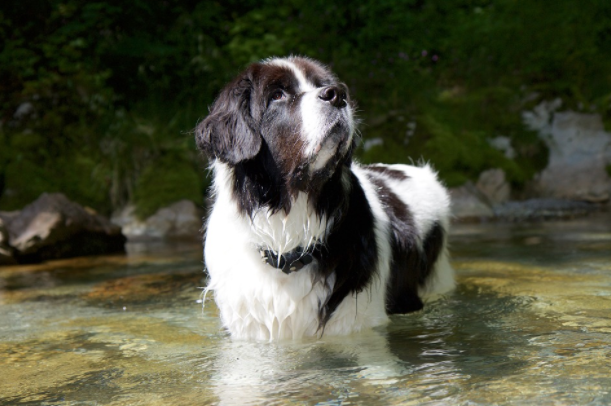 The Landseer is a very majestic looking dog. People often think that he is a black and white cousin to the Newfoundland breed. Even though the two breeds look alike, the Landseers makes a reputation all their own with their sweet disposition and calm temperaments. They love to be around little children, so bringing one of these cuties into your home is bound to be a great addition!
Landseers have an average life expectancy of around 10 years.
6. Great Dane – 8.5 years
Everyone knows a Great Dane when they see one… These powerful and elegant dogs are exceptionally smart; easy to train, but sometimes tough to handle due to their large size. Great Danes are great to have around a family, and they tend to protect their families, making them a great guard dog. These dogs have no problem with having another fluffy sister or brother, but can become uneasy around dogs that they don't know… If you plan on bringing one of these big guys into your life, make sure you consider how much exercise they'll need and the amount of food they'll be consuming!
Sadly, these majestic dogs have poor longevity – only about 8.5 years.
7. Greater Swiss Mountain Dog – 8 years
Greater Swiss Mountain dogs are powerful and energetic, so they need a good amount of exercise to keep them happy and healthy. They are very steady and calm, but also extremely athletic. They have no problem pulling heavy things and guarding your house, they're extremely loyal! Greater Swiss Mountain dogs often stay a "playful puppy" for 2 or 3 years, which makes a fun addition to any house. Just remember that you'll be playing with a 100 lb puppy!
Great Swiss Mountain Dogs live about 8 years.
8. Basset Hound – 10 years
Basset Hounds are an extremely popular dog… With those long, floppy ears, sweet faces, and sad eyes, it's hard not to fall in love. Basset Hounds have great noses, so are prime for tracking and hunting. Their short, stubby little legs make it easy for them to pick up a scent low to the ground! The sad part about these cuties is that they are prone to all kinds of health issues… Some include elbow dysplasia, Willebrand's disease (a bleeding disorder) and glaucoma.
It has a 10 year life expectancy.
9. Pakistani Mastiff – 9 years
The Pakistani Mastiff will be a great guard dog to protect you and your family. These guys have several other nicknames, including Bully, Bully Kutta and Indian Alangu Mastiff. The sweet and loyal Pakistani Mastiff has been used in Pakistan in illegal and awful dog fighting rings… Luckily organizations like World Animal Protection International has taken steps alongside the Pakistani government to put an end to dog fighting. To help encourage ending practices like this, you can donate to WAPI, here.
The Pakistani Mastiff has a life expectancy of 9 years.
10. Chow Chow – 8 years
The Chow Chow is an adorable dog, from its fluffiness to its cute stuffed animal-like look.  In northern China, the name Chow Chow actually translates to "Puffy Lion Dog!" A defining feature of the Chow Chow is its blueish-colorer tongue, it's definitely a conversation starter anytime you bring your Chow Chow out! Even though the Chow Chow is one of the cutest dogs around, they are more than likely to suffer from ailments such as hip and elbow dysplasia and cataracts.
This cute little dog has a low life expectancy – around 8 years.
11. Jagdterrier – 10 years
Certainly not lacking in the cuteness department is the Jagdterrier. These little pups aren't widely known. They're mostly used in hunting and tracking, which is where they get their other name: German Hunt Terrier. They're also very protective, known for keeping wild boar, foxes, rabbits and badgers off property.
On average, it has a life expectancy of around 10 years.
12. Neapolitan Mastiff – 9 years
The Neapolitan Mastiff, an amazing looking dog, is known for being a good guard dog. Fearless in the face of danger, they are always ready to protect their owner. Intimidating in size, its no wonder that they have a bit of a scary reputation. But these dogs are still loving, loyal, and ready to play with you as much as you are willing! Unfortunately the Neapolitan Mastiff is also prone to a number of serious health issues, so make sure that you are taking yours for regular checkups and giving them plenty of exercise!
Their life expectancy is low, averaging at about 9 years.
13. French Bulldog – 10 years
Everybody loves a Frenchie! They're hard to ignore when you catch one walking down the street with their squishy noses and adorable ears! If you're not the most active person, then a Frenchie is the perfect dog for you. These cuties are known to be one of the laziest dogs on the planet, so if you love your couch a little more than you love going for a run, you and your Frenchie will be perfect together.
Their inactivity may be why they only have a life expectancy of 10 years.
14. Saint Bernard – 9.5 years
Saint Bernards are amazing around people, and love to make friends with whoever they meet. They are large though, so need a lot of exercise to keep their calm demeanor and be healthy! Every St. Bernard loves romping about in the snow and carrying things… They're perfect for active lifestyles. If you give a Saint Bernard all of your love, they'll be sure to give you infinite amounts of love back!
On average, a Saint Bernard will live 9.5 years.
15. Bernese Mountain Dog – 7 years
The Bernese Mountain Dog has a beautiful, thick coat. They're soft and fluffy, but keep in mind that these dogs would be better in cold climates than in warm ones. In fact, romping around in the snow is something they love. They are great with children, often calm, easy-going and sometimes even shy. If you bring him out regularly though to be social and play with other dogs, they'll be just fine and friendly towards anyone he meets!
Bernese Mountain dogs live 7 years.
Comments
comments