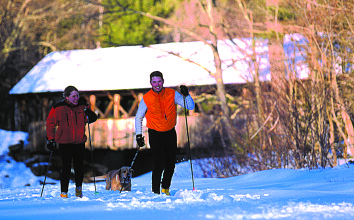 Winter is upon us. It's the perfect time of year to cozy up to the fireplace with a cup of hot cocoa! But what about pets with cabin fever? Animal Fair has compiled a list of pet-friendly resorts that are winter wonderlands full of scenic outdoor activities and inviting, relaxing rooms. From California to New York, we have provided you with pet-savvy establishments that will cater to your four-legged friends with special pet amenities that will keep you both warm and content!
Sorensen's Resort – Hope Valley, California
Since 1926, the Sorensen's Resort has offered skiing, biking, rafting, and much more. The hotel is located in California's Hope Valley, a pristine pocket of the Sierra Mountains, 20 miles south of Lake Tahoe. The best part is that pets are welcome. "We have lots of outdoor programs at Sorensen's," said owner Patty Brissenden. "Isn't the point to enjoy the mountains with your pet, whether it's skiing or hiking?"
And that's just what pet owners can expect here. "We always love our pets and feel having some  pet-friendly cabins at our resort is good," Brissenden said. "Since we are kid friendly, have weddings, honeymooners, anniversary couples, family reunions, we thought … why not pets?"
They offer an array of amenities for your pet. "We keep doggie bowls for food and water in the cabins and offer a taste upon arrival," she added. Of course, they also take into consideration special needs of people. "We try to balance it out for all," said John Brissenden, co-owner. "We ask that all dogs remain in leashes, and we try to accommodate anyone with allergies. We want everyone to be happy."
"Our staff is very friendly," Brissenden says. "I also think our history will attract pet owners," he added. "We have programs for pet owners to bond with their pets as well as programs for the pet owner to unwind." Don't hesitate to pack your bags and take your pup on a vacation to Sorensen's Resort this winter!
Prices range from $140 to $395 per night and pets can stay for free!
Sorensen's Resort
800.423.9949
www.sorensensresort.com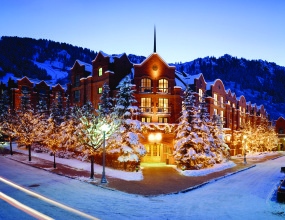 St. Regis Resort – Aspen, Colorado 
Aspen, Colorado, boasts some of the best skiing in the world for pet owners and their four-legged friends. The St. Regis Resort is the ultimate getaway. "Aspen loves its pets, and we enjoy treating Fido as well as we treat our guests," said Erin Lentz, Promotions Manager.
The St. Regis Resort offers a unique pet program ensuring that your doggie receives royal treatment during your vacation. Every dog is treated to plush, five-inch thick beds with a royal purple seal and individual ceramic dog dishes.
Besides their pet program, the St. Regis Resort also offers a "borrow a pet" program. "We lend dogs out to pet owners or pet lovers who don't have a dog with them," said Maureen Poschman, Public Relations Director. "In fact, some dogs have been adopted from our program." Pet owners and pets alike will enjoy all the beauty Aspen has to offer by going on healthy hikes and scenic walks. Each room is contemporary Alpine décor, and each guest will experience luxurious services.
Prices range from $800 to $4750 per night for a Presidential Suite. Pet fees: $100 per pet, per night, per stay.
St. Regis Resort
800.325.3535
www.stregisaspen.com
The Ritz Carlton, Bachelor Gulch – Vail, Colorado
The Ritz Carlton, Bachelor Gulch located in the Colorado Rockies is considered to be one of the most pet-friendly resorts in the country. On premise, their resident yellow Labrador retriever, Bachelor is available for snow shoe hikes and walks (on a daily limited schedule) throughout the winter season thanks to their exclusive Loan-a-Lab program. This complimentary service is wildly popular with families and children. "It's a great way for the family to bond and have fun," said Steven Holt, Director of Public Relations.
In addition to the Loan-a-Lab program, they also offer a V.I.P. Program (Very Important Pooch). The V.I.P. will receive a set of amenities upon arrival from Bachelor himself, which includes a welcome card, a custom-made gold name tag, a plush dog bed, and homemade dog biscuits at turndown. "Our buildings are inspired by the grand lodges in the turn of the century," said Holt. The Ritz Carlton, Bachelor Gulch is an exquisite North American luxury resort which captures the beauty of the surrounding national forest. This is one winter hot spot where any pet and pet owner would love to stay!
Prices range from $265 to $625 per night. Pet fees: $125 per stay, no matter how many pets you bring!
The Ritz-Carlton
800.241.3333
www.ritzcarlton.com
The Alpine Village Suites – Taos, New Mexico
You will be surrounded with snow-covered mountains, nestled amongst aspen and fir trees, and given lots of space for your pets to run free. The Alpine Suites eagerly welcomes pets. "The owners are animal lovers and have three beautiful dogs of their own," said Manager Alyson Lerner. "They understand people's attachment to pets, and believe that vacations should include pets."
"It's a great holiday choice because of the beautiful surroundings and peace and quiet," said owner, John Cottam.
This winter look into escaping your daily grind by going to one of Taos' newest and most charming hotels, the Alpine Village Suites. This is one destination you should head for to enjoy the natural sights, relish in the serenity and relax while bonding with your pet.
Prices range from $75 to $315 per night. Pet fees: $10 per pet, per night.
The Alpine Village Suites
800.576.2666
www.alpine-suites.com
Lake Placid Lodge – Lake Placid, New York 
Wouldn't any pet and pet owner want to escape the bustling big city to enjoy a natural scenic view and crisp winter air?  Especially since Lake Placid Lodge is only a five-hour drive from New York City, located within the Adirondack Mountains. This luxurious pet-friendly getaway is a member of the Relais & Chateaux, the prestigious Paris based hotel association. "Guests love the opportunity to be out in the Adirondacks with their dogs," said Simone Rathle, Media and Public Relations Consultant. "Lake Placid Lodge has always understood that, so we are more than happy to accommodate them."
At the Lake Placid Lodge, you and your pet will be treated with the utmost amenities you could ever imagine. Your pet can get a wonderful massage from a pet masseuse. This treat will help release all of your pup's pent-up tensions immediately, and the lodge will set the appointment.
For dinner, you and your pet can choose from their large selection of meals. Your dog gets to choose from an array of different meals that include a chicken liver plate and chopped filet mignon. Upscale choices for your upscale pet. Don't they deserve it? They will also receive a doggie bed, dry dog food, and water bowls in their room after they get their goodie-bag of treats.
The lodge charges a $75 per pet, per night fee. When Fido is left alone in his room, he must be crated, which can be purchased for $25. In addition to the nightly charge a $200 deposit is required upon arrival and refundable at departure barring property damage. A small price to pay considering how much healthy fun your dog will have while hiking the mountains with you! This winter, treat yourself and your pet to all the luxuries Lake Placid Lodge has to offer.
Prices range from $625 to $850 per night.
Lake Placid Lodge
618.532.2700
www.lakeplacidlodge.com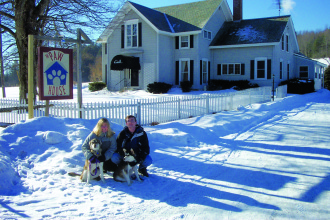 Paws House Inn – West Rutland, Vermont
No dog wants to be treated like a second class member of the family. And pet owners want their pup to feel wanted and invited to travel with them whenever possible. At Paws House Inn, located in Vermont, your dog will never feel like a third wheel. "Some places accept dogs. Other places tolerate them. Here at the Paw House Inn, we cater to dog owners and their dogs," said Mitch Frenkenberg, Owner and Creator of the Paw House Inn.
In 2001, Mitch and Jen Frenkenberg purchased a beautiful 1786 farmhouse and fulfilled their vision of catering to all pet owners and pets by creating The Paw House Inn. Owners of three dogs themselves, the Frenkenbergs are aware of how important a pet owners unique needs are. "We want pet owners to travel with their pets. That is why we geared our inn for people with specific needs."
There isn't any compromising for any pet or pet owner at the Paws House Inn. "We're still one of the only places that takes care of dogs when owners are gone, while other places won't allow owners to leave their pets alone," Frenkenberg says. While lodging at the Paws House Inn, pet owners and pets can find time to bond with each other. There are lots of activities that will keep all busy.
Dogs can participate in hiking, and running beside their owners on biking trails all around the grounds. "We make special accommodations for pet owners to bond with their pets." Guests can also expect top class service. The rooms are beautiful and it's first class," Frenkenberg adds. "Another great thing is that everyone can eat together with their own dogs. It's like a community." What dog wouldn't want to come here for winter?
Prices range from $185 to $225 per night. Dogs can rest their paws at Paws Inn for free!
Paws House Inn
866.PAW.HOUSE
www.pawhouseinn.com
Four Seasons Resort – Jackson Hole, Wyoming
Four Season has always been dedicated to the highest standards of hospitality, and is geared for the modern traveler. "Four Seasons is known for taking care of their guests; and this includes their pets," said Nicole Burdick, Director of Sales and Marketing. "It's a natural extension of the personalized service we provide."
Pets can expect luxury treatment the same as their owner.  "We provide dog bowls for water and food, homemade doggie treats and bandannas." These are special accommodations for dogs, but if you have a different kind of pet, "we will find a way to accommodate them as well," Burdick adds.
Pet owners will enjoy the "Eastern casual" atmosphere the Four Seasons provides. "Each room has very fine wood work. The idea is to bring the outdoors, indoors." Said Kimberly Huffman, Director of Marketing. "Pets would love it here for the simple fact that they won't be left alone. It's policy that pet owners be with their pet at all times. We have patios which is easy access for dogs to walk in and out of. And pet owners will not only be happy that their pets are happy, but there are also amazing sights and easy ski-in/ski-out access to the Teton Mountains."
Prices range from $500 to $900 per night. Pets are free, but only if your pooch weighs 15 lbs. or less.
Four Seasons Resort Jackson Hole
307.732.5000
www.fourseasons.com/jacksonhole
WAG'N TAILS CORONADO – Coronado, San Diego
The Wag'n Tails Coronado is a must visit! Who wants to deal with the hassle of trying to wash their dogs in a hotel bathtub while they're on vacation? Wag'n Tails Coronado is the answer to your worries! This elegant and quaint store is the perfect place to get your dogs washed after some of your winter adventures and activities. The service is incomparable and while your dog is being washed you can even pick up a few items for your pet! There are good selections of cat and dog foods, bakery style dog cookies and super cute items that you can give to your other pet loving friends as gifts!
HOURS
Mon-Thurs: 10 – 6pm
Fri-Sat: 9:30 – 6pm
Sunday : 10 – 5pm
* TUBS CLOSE 1 HOUR PRIOR TO STORE CLOSING.
http://www.wagntails-coronado.com/
For the Best that Pet Lifestyle and Animal Welfare has to offer follow Wendy Diamond on Facebook, Twitter, and right here at AnimalFair.com!
Comments
comments