New Year 2016 has arrived! What a wonderful time to reflect and celebrate our relationship with the pets that bring so much love to life. These are Animal Fair Media's seven pet tips for ringing in another fun-loving and healthy year with your furry companions. Have a Happy New Year everyone!
Watch the alcohol!
Remember, our pets bring unconditional love and joy to our lives. We must honor this devotion with our own commitment to health, safety and care. Be aware of where your place your pet's water bowl during any party, animals tend to roam and might start licking close to the wet bar.
Safe, Cozy Spot

Please be courteous to your pets! No animals want to be taken out of their comfort zone, which is always somewhere safe, somewhere quiet. Though New Year's is an exciting night, remember that your pet deserves to bring in the night happily as well. Maybe cuddle up in front of a fire!
Be Resolute
New Year's Eve is a classic time to set your sights higher for the coming year. But resolutions don't need to be strictly personal – make resolutions for you and your pet! Find a new dog run this year or take more walks (good for your health too). Maybe new types of treats and update your pet vet visits and vaccinations. One fun way to maintain a healthy, loving relationship with your pet is to set goals. They deserve it (as do you)!
New Threads For Pets
Who doesn't like wearing new clothes to kick off the New Year? Why not spice up your pet's night with a new outfit! This can be a great way to show you care. Don't forget, though – not all pets are fashion hounds! If you do choose to get them a New Year wardrobe, be sure the outfit is safe, without details that constrict the senses, motion, or comfort.
 Control The Noise

On a night like New Year's Eve, it can get loud and raucous. Harsh sounds can be very irritating on pets' ears. Try playing some soft classical or jazz music as a way to distract your pet from the outside (or inside) cacophony.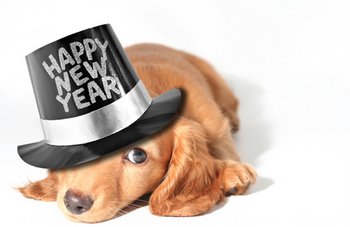 Choking Hazards
If you happen to bring your pet to a party, or even just out for a stroll, be cautious of debris, confetti and other party-esque decorations cluttering the path. These can be harmful to your pets, many enjoy gulping up the nearest bite-size bit in sight.
Have Fun!
While we might stress over the importance of what a new year means, it is equally important to relax, count our blessings and enjoy the company and unconditional love pet(s) bring. New Year's Eve can be more special for you if you choose to make it special for your pet. Play with them more, give them extra attention and love. A pet always knows if you've made the effort! Happy New Year!
For the Best that pet lifestyle and animal welfare has to offer follow Wendy Diamond on Facebook,Twitter, and right here at AnimalFair.com!
Comments
comments