It's a good thing to have a happy dog in the house; but how can you tell if your pooch is feeling good? Contented dogs sleep well for 8 to 10 hours, then wake up ready for food and action. They enjoy their walks and playing with toys. On the other hand you can also tell when your furry friend is unhappy or depressed. According to  John Ciribassi, DVM, , "Dogs will become withdrawn. They become inactive. Their eating and sleeping habits often change. They don't participate in the things they once enjoyed." If this happens you need to take action to discover what's needed to return your pooch to their normal happy selves.
To show you what a contented dog looks like, as you prepare for the arrival of Santa, put the star on the tree, and get out the egg nog recipe, we thought we'd add to the festive fun with ten of the happiest dogs you'll ever find.
1. The friendly Beagle

By nature beagles are warm and friendly. They have a playful nature that's sure to bring a smile to your face, one just as big as the one on theirs.
2. The curious Bichon Frise

They look a little like a lamb with their frothy fur, and these sunny little dogs are just as playful. They always give their pet parents plenty of love with their happy and curious nature.
3. The loving Pug
https://www.youtube.com/watch?v=pzPxhaYQQK8
They may not always look like they're happy, with their scrunched up faces, but pugs love people and they're happiest when being showered with tons of love and attention.
4. The energetic Labrador Retriever

If you're prepared for plenty of exercise then you'll love these big lovable and cuddly pooches. Be warned though, they'll probably still be running and bouncing around when you're exhausted especially at the puppy age.
5. The eye catching Irish Setter

You'll need plenty of room to have an Irish Setter in your home, but you'll have plenty of enjoyment if you do welcome one of these stunning pooches. They not only look amazing but they have an affectionate and friendly nature that makes them an excellent companion.
6. The mischievous Boxer

They sometime look more curious or concerned than happy, but don't be fooled, boxers are full of joy. They have a real zest for life, although it isn't always a good idea to leave them alone and unoccupied for a long period, if you want your home to remain in one piece.
7. The super smart Maltese

These clever little pooches have a cuteness that belies their cheeky nature, they know how to get what they want. They are very people friendly and love to play and learn new tricks.
8. The rough and tumble Bulldog

They may not always look as though they're having a good day, but invariably they are. Bulldogs love to play tussle and they're equally as happy lying beside you on the couch.
9. The sociable Cavalier King Charles Spaniel
https://www.youtube.com/watch?v=dByTJIzhgIA
These perky little dogs are super friendly, and extremely happy in the company of humans, whether its their pet parent or a stranger on the street.
10. The adorable Mutt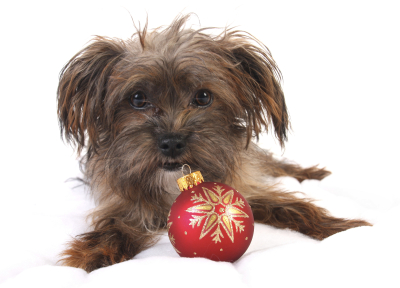 Often the happiest of dogs is not part of a specific breed but rather a wonderful mixture. Many mutts have a really sunny disposition that gives your home a happiness vibe through and through.
If you want to spread a little happiness this Holiday Season why not offer a home to a shelter mutt and really put a smile on both of your faces.
Comments
comments