Happy Thanksgiving! I'm grateful for all the pet parents and animal enthusiasts who help us everyday support the underdog ! It's the simple gifts and sincere people and pets that bring the most joy in my life every day. The following list contains all the treats that I'm truly thankful for, even in this dog-eat-dog world. Woof –woof!
1)      My family – no matter how kooky they may be at times, I would not be here without them! Everyday I make sure my parents are proud and know I am grateful..

2)      My beloved little Lucky up in heaven, who inspired me to create Animal Fair and inspired my career over a decade ago. Lucky gave me the greatest gift in life, a purpose.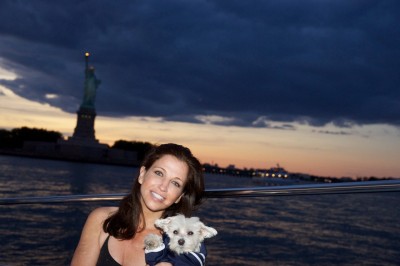 3)      My furry kids' Veterinarian; Dr Rubinstein, Sandra, and Anne-Marie and everyone at the Humane Society of New York.  We are honored to have the Lucky Diamond Critical Care Ward to support pets who need critical care in honor of our beloved Lucky! 
4)      RIP Pasha, my Russian Blue that I adopted at ACC City shelter, he made me aware of the 12 million animals that were euthanized yearly in 1999 (down now to 5 million), and inspired my Animal Fair journey; fairness to animals, and my mission to make the US a "No-Kill" country.
5)       Starbuck's French Roast coffee – it gets me up every morning to take my adopted sweet senior pet Coton, Baby Hope (a true furry gift) for a walk no matter how cold (or warm) it is outside!
6)      I certainly appreciate my vivid and creative mind that allows me to believe I can do anything, and go anywhere, anytime I choose! You have blessed me with the energy and determination to help the underdogs in this world.

7)      My blue suitcase – we have been together for 10 years now – we have traveled everywhere together, from Thailand, Russia, Greece, Mexico, Argentina to Ohio. Blue suitcase – thank you, you have been my RIP Pasha's scratching post, little Lucky and Baby Hope's napping bed, and you never were lost, delayed maybe, but never lost and are still with me…
8)      Go MBT Shoes! You allow me to burn 20% more calories, straighten my back, tighten my butt, and are so comfortable for walking Baby Hope.  Forever grateful, but I just hope and wish that you can design higher heeled shoes!

9)  Keith – my stylist and cleaning wonder, and my fix everything guy, (and sometimes a pain in the derriere – LOL), but every Sunday he reminds me just how lucky I am in life.  Important to make time for people who need help:)

10)  My friends – I chose you and you chose me. Thank you for the laughter, support and joy you bring!
Aww I can't forget the Mad Russian…. For those who know – know why:)
Yappy And Happy Thanksgiving to all!
Comments
comments