Happy Guinness World Record Day!  In honor of our Guinness World Record's – Throwback Thursday….. Baby Hope got a furtastic early Holiday present from Santa Paws – the 2013 Guinness World Records book!
She couldn't wait to curl up with the newly released edition and read about her beloved sister Lucky Diamond, who  holds the record for being the animal photographed with the most celebrities! More than 363 animal-loving celebs got the chance to cuddle up with Lucky before she passed. Here's the full barkstory on how the Guinness World Records got Lucky!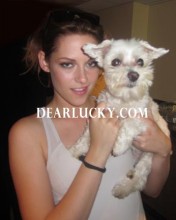 Baby Hope is following in Lucky's pawprints to carry on her mission and celebrate her furtastic legacy! She sniffed out a Guinness World Record of her own earlier this year when she tied the knot at the most expensive pet wedding ever!
Pet parents and their furry companions can read up on Lucky and Baby's records in the new Guinness World Record book which is available in stores now!
Baby will continue her furry cause at our  8th Annual Toys for Dogs benefit to help Hurricane Sandy animals. Whether your pooch has been naughty or nice, you're still invited to join Wendy and Baby for the Howliday celebration!  Bring a toy for a homeless animal and ADOPT a furry companion for the Howlidays!
For the Best that Pet Lifestyle and Animal Welfare has to offer follow Wendy Diamond on Facebook, Twitter, and right here at AnimalFair.com!
Comments
comments