We guarantee that, after reading this article, you'll want to have some major cuddle action with the mutt in your life. You already know how important they are to you, but now we can prove that having a pooch around is an amazing positive in your life.

1. Your canine companion can feel your pain.
Have you ever been feeling really anxious or upset and got a big wet doggie lick as result. Well that's because your pooch can sense what you're feeling, and wants you to know that they can. In 2012 Goldsmiths College at the University of London completed research which involved examining the behavior of eighteen pet pooches. These canines (from a variety of breeds) were placed in the company of people, one of whom was crying, one humming and some carrying on a conversation. The people who took part were a mixture of the dog's pet parents and complete strangers. Many more dogs approached the person crying than the person humming and none of them approached the people talking. This proved that dogs were not just attracted by their parent, nor where they greatly attracted by a slightly unusual action like humming. But a person who was upset did attract their attention. What's really cool is that most of the dogs that approached the crying person did so in a submissive manner; it seemed they knew something was wrong. You can check out the full details of this pretty amazing study here.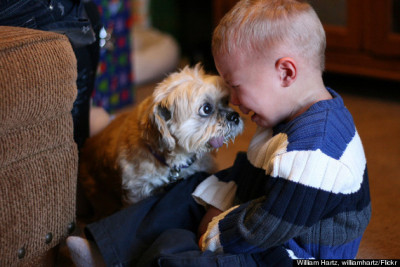 2. Dogs like McBaine may help detect cancer
McBaine is a happy and playful springer spaniel that works at Penn Vet Working Dog Center. He was featured in a New York Times article in September 2014 as one of one of four pooches working on a project to see if the cancer detecting sense of smell of certain dogs can help with the development of the future technological detection of cancer. This type of incredible work has followed the findings of several studies that suggest hunting and tracking dogs, such as retrievers, German shepherds and spaniels, have cancer detecting abilities in their olfactory senses; such as this study concerning bladder cancer, conducted in 2004.
3. Taking your dog to work helps to reduce stress
We know it's not always going to be practical to take your pet to work with you; if you're a firefighter then you probably wouldn't want their help extinguishing a blaze; but if you do work in an environment where it's possible it might be worth making the suggestion to your boss. In May 2012 the National Canine Research Council featured research by Virginia Commonwealth University which concluded that a study group who took their dogs to work with them did not suffer increased stress levels during the day, as those who did not have their pooches with them did. The research also found that on days when the same people didn't take their mutts to work, their stress levels rose to the same as those who had not taken their pet with them at all. So there you have it; if your boss wants you to work to your best ability he should let your bulldog go to work with you, less stress makes for better performance.
4. Your pooch might just save your life if you have a seizure.
As far back as 1995, Liz Rudy, DVM published an article in which she identified the ability of some dogs to predict a seizure in a person some time before the seizure actually happens. As she stated in the article, it's not known exactly how dogs do this but it does happen. The only problem is that not every dog has the ability, so if you ever have a seizure you have to hope that your furry friend is one of those that does.
5. A dirty dog might be good for your kids
How many times do you hear people talk about the good old days when they could roll around in dirt and eat grass to their heart's content without the hygiene anxiety of today's society. Now there is actually evidence that your family pooch could be doing your kids' good when they bring in dirt after a play outdoors. In 2010 microbiologist Susan Lynch and her team carried out research that showed exposure to animals, and the bacteria they can bring into the home, can have a positive effect on microbes in the gut. It only goes to show that if you want your children to have an immune system with kick then having a messy puppy around might not be such a bad idea.
6. Having a dog helps you to socialize
You may not realize it but your dog might be helping you to interact better with other people. In early 2014 a report was published concerning a study involving young adults, and the effect that strong connections with a pet had on the development of their social relationships. It was found that those young people who experienced these pet interactions, and cared for their pets, were more likely to be involved with their local community. Why not take advantage of these socializing skills by taking a walk to the park with your faithful companion.
7. As you get older a dog can be a real blessing
One of the most important relationships that a lot of seniors have in their life is the one they have with their canine friend. A study that was reported in 1999 concluded that seniors who had a dog or a cat in their home were more able to complete the day to day tasks of life such as climbing stairs, bathing or preparing meals. It seems that the responsibility of caring for a loving mutt may help pet parents to remain active themselves.
8. Dog aided stress relief can help children with autism
Studies have suggested that children suffering from autism can benefit from a reduction in the stress hormone cortisol when they interact with dogs. It can certainly be an amazing relationship. If you've been around social media in the last few months you may have seen the story of Jonny Hickey and rescue dog Xena. Jonny was previously not good at social interaction, and Xena had previously been abused. Together they have helped each other to live a completely different life. Check out the video; it will warm your heart, we promise.
9. Dogs are great workout companions
In a world which is getting increasingly concerned with the preservation of fitness, it's amazing how great your mutt can be as a training companion. This isn't just great for you it's also excellent for the dog in your life as it helps to keep them in good condition. In January 2014 an article in Women's Health Magazine featured Karen Soltero who credited her doggie companion Alex with helping her to keep to a workout routine. The same article also highlighted the study by Michigan State University which found that dog parents are 34% more likely to get the weekly recommended level of exercise than people who parent other pets. So, if you want to get fit, get pounding the sidewalk with your canine housemate.
10. Mutts have the potential to help victims of PTSD
The US Department of Veteran's Affairs recognizes the positive effect that the companionship of a dog can have on anyone's mood and says that a dog can work in conjunction with other recognized treatment to alleviate the symptoms of PTSD. In Nova Scotia Canada, the Mental Health Foundation has orgainzed fund raising to provide service dogs for first responders who are affected by PTSD. They were prompted to help by the story of military veteran Medric Cousineau whose dog Thai helps to reduce the stress in his life. Anything that helps with the relief of PTSD has to be a good thing, and if it comes with four legs, a wagging tail and a woof then that's even better.
We've shown you how important dogs can be to their parents. So next time your pooch gives you a lick when you're feeling down give them some love right back.
For the Best that Pet Lifestyle and Animal Welfare has to offer follow Wendy  Diamond on Facebook, Twitter, and right here at AnimalFair.com!
Comments
comments