Winter pet travel blues?  Everything is packed, work is left at home, and a week of leisure lies ahead. But there's just one last stop: bringing your poor pooch to the kennel where he is caged up for the next seven days, while you roam freer than ever. Feeling guilty yet?
Dragging your dog to the kennel by the leash, and suffering a sad goodbye look as you embark on a fun filled vacation is no longer your only option. Many vacation hot spots acknowledge that there is an abundant population of dogs in the United States, and see profits rising as they treat these canine guests to a comfortable vacation resort.
Nantucket Island is one of the most popular vacation sights, plus one of the most pet-friendly. With a huge variety of attractions and beautiful beaches, this summer oasis is a relaxing get away to be revisited over and over again.
Getting There: Cape Air, as well as Midwest Air, provides free boarding for dogs! Other airlines, such as Continental , Jet Blue and Delta, allow pets to travel in the cabin or in cargo. Once the plane comes to a complete stop, there are multiple ferries ready to board you and your canine companion for the final stretch to vacation heaven.
Dogs enjoy the beach just as much as the next bum, and with these new accommodations they are now able to come along for the ride. In Nantucket, Massachusetts, the Woof Hotel treats dogs as esteemed guests. When a dog first enters the room they see a basket filled with toys, treats, a towel, food, water bowls, and a doggie bed. Outside the room, your pooch will enjoy a nice stroll in Woof Park, and, on Fridays from 6 to 8 p.m. he can enjoy "Yappy Hour" with dog treats and fun with other guests.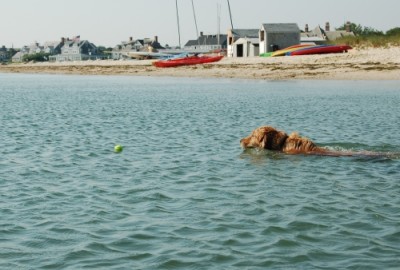 The Woof Hotel also caters to the pets parents with king-sized beds, a harbor view, and many other amenities. When leaving the Hotel, the dogs mark their territory by leaving a portrait photo in the "Doggie Log", a guest album displayed in the lobby of Woof Hotel.
In addition to the Woof Hotel, Nantucket also accommodates pets at The Woof Cottages (thecottagesnantucket.com), part of The Cottages at The Boat Basin. This comfortable temporary home offers dog walking services, a bed for pets, other amenities and lists of popular dog runs. The Beachside (thebeachside.com) at Nantucket, and The Brass Lantern Inn (brasslanterninn.com) also offer places for pets to stay.
Once everything is finally unpacked and work is officially not on the agenda, Nantucket is happy to offer many leisure activities for the entire family. A good day always starts well with a helping of fine cooking. At the Even Keel Cafй (evenkeelcafe.com) as well as Queequeg's, a brisk breeze on the patio with a healthy meal will start any day off with a treat, especially when fido is along.
After munching on some grub, it's off to celebrate the gorgeous weather! Waking up early with the birds has a pay off. On Nantucket, dogs can enjoy the sandy beaches before 9 a.m. and after 5 p.m. (except where lifeguards or endangered species are perched). Pets are even allowed to ride the shuttle to the beach!
Nantucket Resident Maureen Balsbaugh mother of  Dublin (RIP) raves "There are lots of dog-friendly beaches on Nantucket. Dogs love to run around on the beaches and sand, the Woof Hotel gives them a Frisbee upon arrival to the hotel to play with on the beach!" Dionis Beach near Fishers Landing is a great place to take your dog and your family for a cook out and some beach games. Make sure you stay to watch the most incredible sunset a dog could ever witness!
When traveling with a pet, it is essential to bring water everywhere, according to Jim Storey, General Manager of Woof Hotel. "You may go to a beach where there isn't fresh water available and?after digging a few holes, doing some doggie body surfing and catching some Frisbees – your best friend will want some water," Storey informs.
For a little mingling, Tuppancy Links, a former golf course turned into a park with a walking path, provides a secluded and serene social scene for dogs and parents to socialize.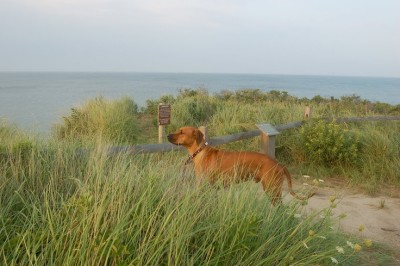 Upon leaving the beach, it is noticeable that the other long eared, tongue wailing, four-legged animals are very stylish on Nantucket island. To make your dog match the hip islanders, Cold Noses (coldnoses.net) as well as Geronimo's (geronimos.com) of Nantucket provide all the latest trends in doggie island apparel.
For the smaller, handheld kibble eaters, sightseeing is more fun by bike. Nantucket style baskets attached to the front of the bicycle allow for a pleasant, scenic vacationing view of the island for you and your dog.
For the Best that Pet Lifestyle has to offer follow Wendy Diamond on Facebook,Twitter, and right here at AnimalFair.com!
If you don't have an animal to celebrate Nantucket with Adopt! Nantucket Animal Care and Adoption Center  11 Crooked Ln., Nantucket, MA 02554; Phone (508) 825-2287
– Samantha Henry
Comments
comments