Summer is finally here! The sun is shining, the AC is on full blast, and nothing feels better than a nice cold popsicle. Naturally, you'd want your best friend by your side, but at the same time, you know that ice cream in large amounts isn't good for your furry companion, so what can you do? We've got an answer for you: Make your very own dog friendly ice cream right at home! Here's the very simple process:
Ingredients:
1 ripe banana
32 oz plain yogurt (substitute with goat milk for treat with less lactose!)
2 tsp honey
2 tsp peanut butter
So you've got all the ingredients, now what? Ice cream must be hard to make, right? Nope! Just put the ingredients in a blender, and once they're all mixed up and smooth, pour small amounts of the mix into little round paper cups and add a treat as a popsicle stick substitute.
Tip: For smaller dogs or bite sized snacks, pour the mixture into an ice cube tray! If you wanna give Scruffy an antioxidant boost, it's alright to throw in some blueberries to the mix!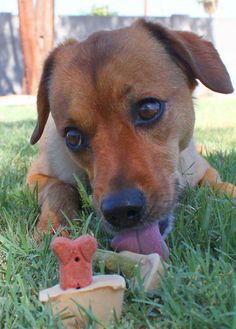 Brand frozen doggy treats tend to run up your grocery bill, so why not just make them yourself? Desserts are one of the funnest things to make in the kitchen, but the fun doesn't have to stop there! Grab the leash and go out for a nice walk or hike with your buddy and you can each come home to a refreshing snack – homemade pup-sicles for your furry friend, and regular ice cream for you!
For the Best Pet Lifestyle and animal welfare has to offer follow Wendy Diamond on Facebook, Twitter, Instagram, and right here at AnimalFair.com!
Comments
comments