Animal Fair Media's Baby Hope is the puppy love of Wendy Diamond's life and brings her incredible joy and laughter every single day! Small dogs with their shorter furry legs have very different needs than medium and larger sized dogs!
Smaller dogs are much easier pets to manage and maneuver in urban and big city living. The streets of major cities such as New York City and Toronto are full of smaller breeds and mutts claiming their rightful territory! Mars Pet Food conducted a PEDIGREE® survey in Canada and discovered that 60% of Canadians have small dogs – and who can blame them? They are adorable and animated in stature with larger than life personalities!
Here are barkin' beneficial pet lifestyle tips on how to treat your small dog!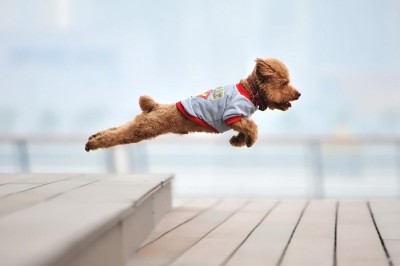 Healthy Pet Food For The Mighty Small
There are certain pet food brands that cater specifically to small dogs! Remember to pick the right food brand specifically for your small dog. Different breeds have different needs, including age and overall health! Always bark and consult with your veterinarian before making any final food or treat changes. Brands like Cesar®, IAMS® and PEDIGREE® design dog food for small dogs, teeth cleaning, and small kibbles.
Bowl Size Fits Bit Size!
Small dog equals small bowl, it's that simple! Deep bowls help to project food up the smaller breeds' nostrils while they eat. This can't be appetizing…
Tiny Toys Fit
Little dogs enjoy playing with toys just like their larger canine counterparts. The trick is they certainly require tinier toys that fit their smaller stature and mouths. Rule of paw: keep anything smaller than a ping-pong ball away from your small dog. Toys that are rubber, vinyl, soft fabric balls and the right size for your dog's mouth, or nylon bones, is the way to go! Small braided rope toys have an added benefit – helps to clean the small dog's teeth!
Dog Park Perks
Spring has sprung, and that means more time outdoors and at the park with your small dog, for gigantic or minuscule adventures! Small dogs should play and run in small dog parks and runs, otherwise they might be innocently intimidated or accidentally hurt by larger dogs just trying to have some howling fun too!
Very light T-Shirts actually protect your pet from the sun, but make sure the material breaths and easily moves with your small dog. If you have any questions about the right materials consult your vet or reputable local pet store for recommendations!
Hydrate Petite Pups
Water, water, and more water! So important to hydrate when spending more time in the sun and humidity with your small pup, especially with their high metabolism! Bring a full water bottle (or two)!
Hope you enjoyed Animal Fair Media's small pup tips! Woof-woof!
For the Best that Pet Lifestyle and Animal Welfare has to offer follow Wendy Diamond on Facebook, Twitter, and right here at AnimalFair.com!
Comments
comments