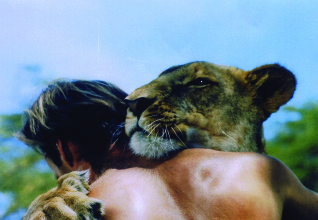 Animal trainer Hubert G. Wells is certainly no stranger to excitement. For 45 years, he made a name for himself as the preeminent animal trainer in the entertainment industry, working with a wide variety of animals for television and high profile films, including Out of Africa. Although his career has encompassed the thrill of training dangerous animals and the glamour of working in Hollywood, Wells' reasons for going into animal training are much more grounded. "I liked nature and animals ever since I was a kid. I spent most of the time in the woods, bird watching, and I just fell into it."
In 1954, Wells began training animals in Hungary. Shortly afterwards, he moved to the US and spent six years on the East Coast, working on the occasional commercial and film. During that time, a fortuitous meeting took place that helped launch Wells' career. "In 1964, I met a director from the Disney Studios and I moved to California. And when I finished the first ever Disney TV movie, I got a job at Jungleland, which was the oldest and biggest motion picture animal compound. In 1969, Jungleland closed and I started my own company, the Animal Actors of Hollywood."
Since its inception, the Animal Actors of Hollywood has become one of the premier providers of professionally trained animals. Under the Animal Actors umbrella, Wells worked with a virtual menagerie, training wolves for Never Cry Wolf, chimps and leopards in Sheena, and an elephant in Honky Tonk Freeway. Despite his success, the jobs were never easy. "Whatever the director wants from the animals, I try to accomplish it within the limits of reason and humanity. But sometimes they really want the impossible, and of course you have to tell them right away that it cannot be done."
As for safety on the set, Wells notes, "In the circus, it's only the animal and trainer inside the cage, but for the movies, you have to turn the animals loose. Besides your safety, you're responsible for the crew, which is 100-150 people." He adds, "The most important part of the training is contact and confidence between animal and the human being."
Considering his extensive work experience, it's no surprise that Wells has developed some animal preferences over the years. So who were his favorite trainees?
"My favorite was always the African lion. My best work and best memories are from African lions. Lions are the only social animals, and if you have a good one, you have the best animal in the world. They're also the most intelligent of all the big cats and you can get a very personal relationship with your lion."
These days, life has been a little less wild for Hubert Wells, marked by the selling of Animal Actors in 1996 and his retirement. Although he still occasionally works as a trainer, Wells is currently pursuing his interest in film, searching for the right production company for his four completed scripts. He also spends his days in his Thousand Oaks residence, among friends and his Jack Russell Terrier. His name? "Starbuck," Wells answers with a laugh. "There's nothing worse than a Jack Russell Terrier on coffee." For a man who has dealt with lions and wolves for a living, we'll take his word for it.
For more information, please visit: www.animalactors.net
For the Best that Pet Lifestyle has to offer follow Wendy  Diamond on Facebook, Twitter, and right here at AnimalFair.com!
Comments
comments