Love is in the air. Valentine's Day is right around the corner, and you may or may not have a significant other. Don't stress! Your furry friend can also serve as a Valentine's Day cuddle buddy. Let's take a peek at the most adorable Valentine's Day hounds to celebrate the holiday and love!
10.
This pretty pooch is already dressed up to celebrate the holiday! How adorable is that headband?
9.
This cute Chihuahua is waiting to surprise you this February 14th. Forget the chocolate and adopt!
8.
Free kisses?! Hurry up and take advantage before the offer expires!
7.
It looks like this beautiful bulldog has a present for you this Valentine's Day. What a sweet gesture! Someone looks like he wants a treat…
6.
These canines seem to be all set for the holiday. Puppy love is the sweetest.
5.
This pooch looks shocked that his parents got him all of those treats for Valentine's Day. Now that's love!
4.
Valentine's Day is embedded in this little one's DNA. How darling is that?! I hope his name is Valentine.
3.
He's all ready for the celebration going on this 14th. This is Baby Cupid's mascot, reporting for duty.
2.
Hanging out in a basket seems like a normal thing to do to celebrate Valentine's Day…right?
1.
February is still considered winter time, so this precious pooch is celebrating February 14th in style (while keeping his head warm at the same time!)
BONUS: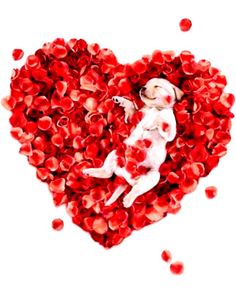 It looks like this puppy broke into the bouquet of roses and decided to have a little fun. He became tired and took his nap time right on top. That's okay, because he's waiting for a bunch of hugs and kisses from you. Hurry!
Show your pooch how much you love him this Valentine's Day. Adopt a pup or a buddy for your current hound HERE!
For the Best that Pet Lifestyle has to offer follow Wendy Diamond on Facebook, Twitter, and right here at AnimalFair.com!
Comments
comments