What would the Holiday Season be without some dogitude? This year it's coming in Santa sacks full in the form of "12 Dog Days Till Christmas" the feel good family movie that's showing across the digital platforms. The hero, Jack, finds homes for 12 unwanted canines in the Holiday Season. What will you be doing for the dog in your life? What will you be putting in their stocking? A new bed, a doggie hoodie, or even a bottle of doggie perfume? As your pet opens their presents you might want to make them feel more festive. Check out our top ten fun doggie dress ups, maybe you'll get some inspiration to inject a little barking madness into this Holiday Season.
1. Enough with the nose and antlers, I'm not guiding any sleighs, and as for the carrots!
9. Have they never heard of a Christmas tree? If they start with the baubles on the antlers I'm off.
8. Peace and goodwill to all, even those that miaow.

4. This really doesn't do anything for my figure, can I try it in blue?
5. I wanted to be an angel but with these ears they said I had to be an elf.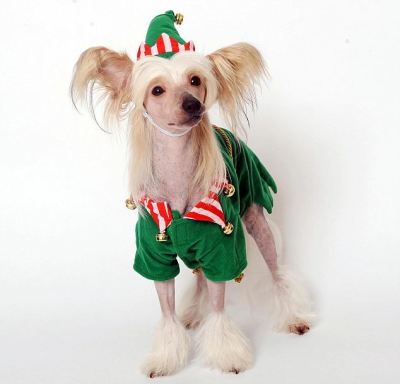 6. Santa baby… Now accessorize me please, where's the sparkle, where's the pzazz?
7. Wake me up when Santa has been. I'm dreaming of a stocking full of bones.
8. What do you mean, the last one melted? I'm not standing out there all night, "It's a Wonderful Life" is on.
9. So much glazed ham, so much chocolate, so much eggnog, now we're feeling a little "woof". DO NOT DISTURB.
10. Happy Holidays, now I need a little sleep. Wake me up for the New Year's party.
Are you smiling at our doggies' antics? Why not spread some of that joy and think about adopting a loving canine. They will get a loving home, and your home will be full of puppy love!
 For the Best Pet Lifestyle and animal welfare has to offer follow Wendy  Diamond on Facebook, Twitter, and right here at AnimalFair.com!
Comments
comments