Holiday Hound Peppermint Treat Recipe!
The way to a dog's heart is through their stomach! This holiday season give your dog a special gift that comes straight from your heart; a home-baked treat. Your pet will surely appreciate the main ingredient, lots of TLC. You can even create a fun holiday game with this holiday treat, a festive round of fetch and seek!
Here is a quick and easy Animal Fair Media holiday favorite treat recipe – enjoy!
This traditional treat is tasty and healthy for your pet! Peppermint helps improve your dog's dental health and is also a natural way to benefit their stomach and digestive system. Woof– woof.
Ingredients:
1/2 cup of corn meal
6 tablespoons of natural oil
2 tablespoons of peppermint extract
2/3 cup of water
2 cups of whole wheat flour
You'll need a large mixing bowl and fun cookie cutters, perhaps in the shape of bones, other dogs or cats … whatever makes your dog bark for joy!
Steps:
1.       Mix all the ingredients together in a bowl and stir until you have smooth dough with all ingredients thoroughly integrated.
2.       Place flour over your clean cooking space and roll out the doggie dough. Evenly cut out the shapes from the dough with cookie cutters.
3.       Place the shapes on the baking sheet.
4.       Preheat oven for 350 Degrees F, and cook for 35 minutes.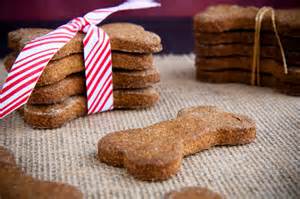 The doggie treats are ready – your happy hound will be howling your holiday praises this year!
Remember peppermint candy canes and other hard candies are a big holiday no-no for pets – they can easily choke on all hard candy.
If your pet does have bad breath all the time, this can indicate dental disease. It's important to take your dog for regular exams and professional teeth cleanings. Also, bad breath can be related to more serious medical conditions such as a liver or kidney disease.
Another healthy pooch or feline holiday gift – a teeth cleaning and exam!
 For the Best that Pet Lifestyle and Animal Welfare has to offer follow Wendy  Diamond on Facebook, Twitter, and right here at AnimalFair.com!
Comments
comments