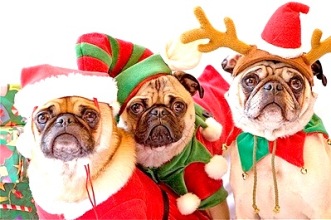 The holiday season always sneak up on us and guess what? It's here! Visiting loved ones to spread some good ole' fashion seasonal cheer is a tradition of the holidays. Whether it's by car or air, you will probably find you and your pet(s) leaving home to spend quality time with friends and family in another city, state or country. 
Santa Paws is coming to town by sleigh, he wanted to take the train, but his precious pets (albeit large reindeers) weren't allowed to board! Ho-Ho-Ho – Oh no! This all might change very soon! Pets might be able to take the train any day now! The Pets on Trains Act of 2013 will hopefully pass shortly in the House and Senate, and would require Amtrak to say "all aboard" to cats and dogs.
The Pets on Trains Act will make way for crated domesticated cats and dogs on Amtrak trips of less than 750 miles. Pet parents will have to pay a fee (small price to pay for traveling with your furry companion) and then jump aboard a pet-friendly car. FYI, all service animals already ride the holiday rails.
 "During the holidays especially, it's a great time for people to travel with their pets, go home and see family and take their loved ones that happen to be animals with them along the way," commented Pet Industry Joint Advisory Council CEO Mike Canning.
Animal Fair Media's Wendy Diamond and Baby Hope are sharing the following easy travel tips for pet parents, providing all the directions you need to have a safe and hassle-free holiday travel season with your furry four-legged frolickers.
KNOW THE RULES OF THE ROAD
Different modes of transportation have various and changing guidelines.  Where some airlines are comfortable letting pets on board, many restrict the number of dogs and cats you can bring on a single flight. If you have several animals flying with you, arrange for a family member or friend to accompany and assist you (bribe them with holiday treats). Amtrak does not allow pets on their trains – all aboard without animals.  Consider an RV – no boarding, no cargo holds, you don't have to stuff your pup under your seat, and there are even RVs with built-in pet stations. You can also take all her favorite toys, and beds! Whether you are traveling on a plane, train, boat, car or RV familiarize yourself with the rules and regulations for every place you want to go beforehand, this prevents you from scurrying to make last minute changes to your travel itinerary. Check the status of reservations or weather conditions at least 20-minutes before heading out – winter storms can delay even the most seasoned travelers.
Make sure your dog and cat have everything they need for a comfortable trip. Remember – bring a carrier, a leash, food and water bowls (and water), toys and treats. Do a search and locate pet-friendly hotels in the visiting vicinity. Many establishments cater to dogs and cats with pet pampering programs. The extra fee is worth the price, and makes for a great holiday gift for your pet!
Check to make sure your pet's vaccinations are up to date! Have your vet give your pet a once over before heading to the North Pole (or South Pole), and make sure they have a clean bill of health. This preventative measure relieves you from encountering problems with your pet when you both are on the go and away from home.
Takes breaks with your pets, get out of your car (not plane), stretch your legs and take pets for a 10-15 minute walk or quick run when you find a rest stop. This reduces your pet's travel stress by exercising, going to the bathroom and getting fresh air. Depending on where you are travelling, rest stops are often few and far between – put on the breaks as soon as you see one.
Your pets should never (never) ride in the back of an open truck, all it takes is one big bump in the road and you might need a "Miracle on 34th Street". Make sure your cat and dog aren't left alone unattended in your vehicle. Place pets in a carrier or leash them before venturing into noisy parking lots or high traffic areas.
MICROMANAGE WITH MICROCHIPS 
Microchips are highly proven and effective ways to locate lost dogs and cats. The holiday season brings more visitors to the front door, impromptu shopping trips, and a frenzied mood in general. With the entire holiday hubbub going on, your pet might get lost in the shuffle. The microchip is the perfect tracking tool when your pet tries to escape the holidays! Pet parents should store all the most updated information into the chip including; change of address, phone number, anything you think is pertinent (same goes for collars).
CARRY-ON PET'S MEDICAL HISTORY & OTHER IMPORTANT DOCUMENTS
Place your passport, plane tickets and pet's medical documents in an easily accessible location in a zipped space such as; your tote, carry-on, or coat pocket. You'll want to have proof that your pet has been vaccinated in case airport security requires documents. Bring a list of medications and details about your pet, as you want the person handling your dog and cat to know about their medical history. Remember to call days/weeks ahead of time to understand all your airline's rules and regulations, before arriving for boarding!
USDA'S WEBSITE FOR AIRLINE TRANSPORT PET POLICIES

 
Find out what will and won't fly with different airlines. For more information visit: http://www.aphis.usda.gov/animal_welfare/pet_travel/pet_travel_basics.shtml.
HAPPY & SAFE HOLIDAY TRAVELS!
For the Best that Pet Lifestyle and Animal Welfare has to offer follow Wendy  Diamond on Facebook, Twitter, and right here at AnimalFair.com!
Comments
comments