Give your loved one a Holiday gift that will that will moo-ve them! Sponsor a Green Chimneys farm animal in their name and support a furry friend in need of love and care. Your gift will support the care of the animal you choose for one furtastic year, during which your loved one can visit his or her farm animal. The gift will also help the children of Green Chimneys who care for the animals every day.
Green Chimneys, set on 150 lush acres sixty miles north of New York City, was founded as a farm-based boarding school over fifty years ago, and has evolved into a treatment center for emotionally troubled and physically challenged children and animals.  Over 100 children, aged 6-21 reside there, interacting with and caring for over 350 animals; from pigs and cows to exotic peacocks, miniature horses, and Nigerian dwarf goats.
Green Chimneys has long recognized the value of animal-assisted therapy, as animals provide a non-judgmental ear and respond with unconditional love. As Green Chimneys' founder Sam Ross likes to say, 'Some of the best therapists can't talk'.  The animals at Green Chimneys are the source of inspiration for the children, as they have persevered through terrible circumstances.  Mr. Postman, a bald eagle, survived the 1989 Exxon Valdez oil spill, and now makes his home at Green Chimneys, as do several chickens, stained orange, having slimly escaped ritualistic sacrifice.  Many of the farms' animals come from animal protection groups like the ASPCA and households of local residents who no longer want or can care for their pets.  The children, generally from poor families and often victims of abuse, relate to the injured and abandoned animals, as many have suffered similar neglect at home.  The children's bond with the animals creates a sense of connection, reinforcing their self-worth.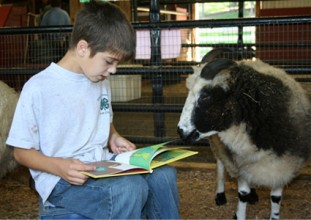 The Green Chimneys program combines traditional with animal-assisted therapy, filling each child's day with special education classes, vocational education, life skills, therapeutic activities and recreation.  As part of therapy, children learn animal care, focusing on the needs of the animal by brushing and feeding them, a welcome activity for many inner-city children, some of whom could not differentiate between a cow and a horse before living at the facility.
Uncommonly social and comfortable with people, a resident deer, usually a timid animal, has adopted the mannerisms of a dog, boldly approaching visitors and readily licking their hands in affection. Potbellied pigs stick their snouts through the wire fence, vying to be pet.  A longhaired black cat swishes between the visitors' feet, eagerly seeking attention.  The cows are said to let the children rest their heads for a nap on their stomachs.
Each of the human and non-human residents are working to get their wings intact and fly to the place where his life's potential knows no limits.  One thing is for sure, though – neither bird nor boy will ever forget the place where the chimneys are a little bit greener.
Comments
comments