It's no secret that young audiences around the world are obsessed with ABC Family's hit show "Pretty Little Liars". The show turned four years old last month and is currently on its fifth season. The show is loosely based on a series of books written by Sara Shepard. The story surrounds four high schoolers who are driven apart after the disappearance of their friend. Years later, the girls find themselves becoming close again as they attempt to uncover the identity of a mysterious blackmailer who knows all their secrets.
While the show gained popularity, so did the actors and actresses. Lucy Hale, Ashley Benson, Troian Bellisario, and Shay Mitchell were launched into superstardom when "Pretty Little Liars" went big. These ladies are actresses, role models, and most importantly (we think) pet parents! Although their characters don't have animals on the show, the Liars get their share of puppy love off the set.
Cumulatively, the young actresses have over 14.6 million followers on Instagram, where they share photos of their four-legged friends. These girls adore their pets, so of course, we love them!
Charleston Zappa (Bellisario's pooch) struck gold when he came home with the beauty. Troian Bellisario plays the character of Spencer Hastings, "the smart one" in the group. Spencer struggles to impress her parents, who show favoritism to her older sister, all while trying to maintain a perfect academic record and balance her love and social life. On top of all that, there is an anonymous extortionist threatening to reveal her and her family's darkest secrets. Sounds like Spencer needs some puppy lovin'.
The stunning brunette actress and model began her film career at the age of three, when she worked with Mary-Kate and Ashley Olsen. A daughter of two producers, Bellisario has the industry in her blood. "Hollywood is a challenging place; it's very easy for people to lose their heads. Fortunately, I grew up on it and I think I have a little bit of a head start," she explains. It's good to know that even with her busy Hollywood schedule she still has time for a little puppy love. What else could you ask for at the end of a long day?
Jack (MaltiPoo) and Bentley (Yorkie) are Lucy Hale's biggest fans. The actress/singer started her career on the "American Idol" spin-off show, "American Juniors", on which she was one of five winners. Off the set, she's a proud puppy parent, but on set Hale plays the role of Aria Montgomery: "the artsy, rebellious one".  Aria's romantic life is rocky to say the least. Balancing, family issues, academics, and unsolved mysteries, it's safe to say that a detective hound would be of pretty good use to her.
Lucy Hale often shares pictures of her pooches with all her twitter and instagram followers. "Thanks Jack for being the perfect pillow and friengel (friend/angel). Yes, I have coined the term," she jokes. Hale travels a lot for work, especially her up-and-coming music career, and she misses her pups dearly whenever she has to be away from them. What a sweetheart!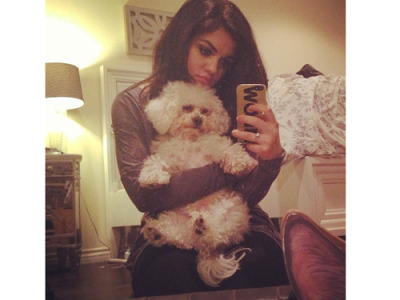 Olive Benson is a Tinseltown superstar. She has people taking pictures of her all the time, a beautiful coat, and a loving family, and plenty of celebrity friends. But get this: she's a pup! (Sounds like someone we know? I think so…)
Hanna Marin, Ashley Benson's character on the show, leads a life almost as fabulous as the pampered pooch. Known as "the it girl", Hanna balances her social-ladder-climbing life with her struggle to maintain her reputation despite the malicious attempts of the anonymous entity.
Puppy parties are all the rage at the Bensons'. Olive is friends with all of Ashley's costars' pups and they get together every once in a while. Before she was throwing doggie parties, Ashley Benson started her career on the hit soap opera "Days of Our Lives" when she was cast as Abigail Deveraux. Both lovely ladies are as cute as can be, I mean just look at them!
Shay Mitchell plays the role of Emily Fields, "the jock girl" with a passion for swimming and a serious talent. Throughout the show she struggles with loss and her sexual identity. She is targeted the most by the malicious blackmailer. Luckily, Foxy, Bailey, and Honey know just what to do!
Mitchell's pooches get lots of attention; She even used to dress up Foxy! "I'm not gonna lie, when I first got her I definitely had a bigger wardrobe for Foxy than I did for myself," she said in an interview. The pups get plenty of camera time, too; the brunette beauty loves sharing photos of her adorable best friends.
We already knew that the "Pretty Little Liars" girls are fabulous, but their love for dogs just makes them that much better! To follow them and their furry babies, check out Troian, Lucy, Ashley, and Shay's Instagram accounts!
And don't miss the hit show "Pretty Little Liars" all new Tuesdays at 8/7c on ABC Family!
For the Best that Pet Lifestyle and Animal Welfare has to offer follow Wendy Diamond on Facebook, Twitter, Instagram, and right here at AnimalFair.com!
Comments
comments