Prevention:
Bathe your dog. Give your pup flea protection or frequent flea baths (especially after your dog comes home from a kennel surrounded by other pups).
Frequently wash your hands thoroughly, especially after petting your animal.
Buy your animal a bed of its own, a comfy bean bag, crate, or dog house with blankets. I assure you that your dog will still be comfortable. Just remember to wash the blankets frequently.
Regularly see your Veterinarian – Keep up with your pets vaccinations and health care.  (Check your pets feces for signs of intestinal parasites.)
Give your dog heart worm medication (prevents worms from growing in your pet)
Groom your pet regularly.
Discourage your children from sleeping with their dog so they do not develop a habit.
Although science is proving that you can't sleep next to your furry companion, I am as healthy as ever sleeping with Baby Hope the last two months!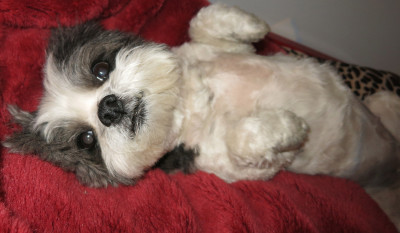 For the Best the Pet Lifestyle and animal welfare has to offer follow Wendy  Diamond on Facebook, Twitter, Instagram and right here at AnimalFair.com!
Comments
comments