Animal lover and comedian Joan Rivers adored her four rescue pups that lived with her before her passing. The love that Rivers had for her furry friends is evident still today in The Private Collection of Joan Rivers, in which many pieces are being auctioned off to benefit charity. Several of the fabulous pieces in her collection demonstrate the special place that her pooches held in her heart.
Some of the amazing pieces from her Private Collection:
Three Louis XV-style children's armchairs that her dogs sat on whilst at  her apartment on Fifth Avenue. 'Only when you love dogs very much do you let them sit on $300-per-yard French fabric,' she once joked. "I've never been one of those Fifth Avenue ladies that have to have dogs that match. I am the Angelina Jolie of barkers."
Also included in her private collection is a beautiful celadon silk-upholstered dog house.
Four english stoneware figures of dogs that represent her four pups will be sold in the charity auction.
A beautiful bronze figure of a whippet from her collection.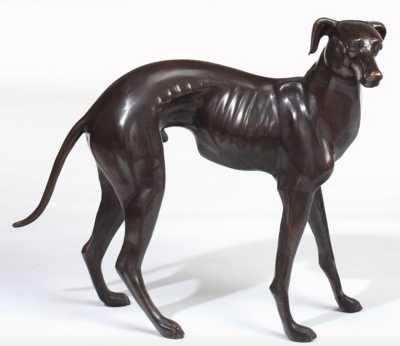 A silver Tiffany & Co. dog bowl for her beloved Spike who passed away in 2001.
'Dogs are easier to love than people,' Rivers said. 'They're certainly more dependable. Once they love you, that's it. A true friend in life is a dog.' She was also an advocate of adopting rescue dogs. "I love rescues and runts.  It's always the one that gets pushed aside that needs the love and will love you back that much more." We miss the laughs that Joan Rivers brought to all of us. But her legacy lives on in these beautiful pieces of art.
Her amazing collection is currently being held at Christie's in Rockefeller Plaza, NYC. For more information on the auction and viewing times of her private collection, click HERE!
A portion of the sales of the items in her collection will benefit both God's Love We Deliver, an HIV/AIDS charity, and Guide Dogs for the Blind. Click on the respective links to learn more and benefit these amazing charities!!
If you don't already have an adorable pup by your side, remember you can always adopt from a shelter near you!
For the Best that Pet Lifestyle and animal welfare has to offer follow Wendy  Diamond on Facebook, Twitter, Instagram and right here at AnimalFair.com!
Comments
comments