Pet artist and designer Ruben Toledo's creative influence has little, if any, boundaries. He is, as his official biography describes, "at once a painter, sculptor, illustrator, fashion chronicler and critic;" Toledo himself says that he is simply an artist – he "tells stories and invents ideas, and tries to express emotions in a visual way."
From fashion illustrations in books to highly acclaimed exhibitions in museums, to flowing layouts throughout the pages of Vogue magazine, Toledo's unmatched, surrealist style embraces a beauty and originality that ultimately attracted his fashion designer wife, Isabel, throughout high school and then to marriage in 1984. Together, they have produced successful exhibitions at some of the most prestigious galleries (Metropolitan Museum of Art, Museum at the Fashion Institute of Technology, both in NYC), won design awards (including the Cooper Hewitt National Design Award), collaborated on best-selling books (Toledo/Toledo: A Marriage of Art and Fashion, and Ruben's own – Style Dictionary) and continue to inspire each other as well as the art culture-seekers. Ruben Toledo's other inspiration? Animals!
Toledo hails from Havana, Cuba, during the time of the Revolution, and moved to the U.S. to grow up in West New York, New Jersey. "I am mostly self-taught," explains Toledo.  "And when I met my wife Isabel, I met the fashion and design world, and that changed my life. I am still so impressed by the professionals and craftsmen that I am exposed to through my wife's work, and how devoted and enthused and dedicated they are to their craft – this is very inspiring!"
Isabel Toledo won global media acclaim when she designed FLOTUS Michelle Obama's lemongrass yellow outfit for the 2009 Inauguration Day.
From the White House to the Great White Way! The Toledos' designed the costumes for the hit Broadway jazz revue After Midnight. The N.Y. Magazine review called it "The No. 1 Musical Of The Year!"
As both Toledo and his wife began to develop their careers, they were also sculpting home lives. Toledo laughs as he recalls Isabel's penchant for pets: "She had canaries … it started with one canary and they somehow became twenty-plus at one point! I think Isabel started adopting unwanted canaries from friends – she kept them in gorgeous, magical Victorian bird cages."
Although the art royalty do not currently have pets of their own, the Toledos love keeping their Manhattan loft-style home open to friend's pets, and continue to use animals as artistic muses.
"Animals appear constantly in all my artwork, commercial illustrations, and my paintings as well," says Toledo. "They have such character and such personality. New York City is also one of my favorite subjects, and pets are such a big part of New Yorker's lives, in that they are symbols of our spirit."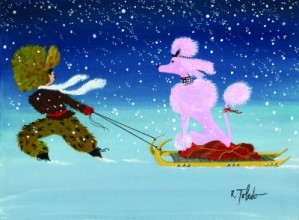 We're looking forward to seeing more of Ruben and Isabel Toledo's creative projects in the future, as their collective following expands and continues to cross from cult to mainstream.
For the Best that Pet Lifestyle and Animal Welfare has to offer follow Wendy Diamond on Facebook, Twitter, and right here at AnimalFair.com!
Comments
comments