Animal Fair Media is presenting our fabulous Holiday Pet Gift Guide 2015! All of the 10 pet-friendly items listed are perfect gifts for the animal lovers in your life this holiday season. The merry array of products featured cover comfy footwear for dog walking, an action camera to take photos of Fido in motion, exquisite pet apparel, gift baskets with pet toys and treats, a 2016 calendar featuring men who love adopting dogs and chocolate, and other furry-fun related gifts!
THE RESCUEMEN'S 2016 CALENDAR
The RescueMen's 2016 calendar features 12 adorable men who have all rescued their furry companions including NBC Law & Order's Danny Pino! The rescue calendar was created to raise awareness to "Adopt, Never Shop" for companion animals, with net proceeds benefiting Pillows for Paws, an organization that brings comfort and love to NYC Shelter Animals. Animal Care Centers of NYC (NYACC) receives the bulk of Pillow for Paws/RescueMen's material donations. Visit here: The RescueMen's 2016 Calendar
And for those of you that have a sweet tooth, in addition to purchasing the calendar, you can also order The RescueMen & Rescue Chocolate Bundle which includes 2 Vegan/Kosher Peanut Butter Pit Bull Rescue Chocolate bars. Yummy men who love dogs with chocolate bars – now that's a Merry Christmas gift for female pet parents everywhere! Visit here: RescueMen & Rescue Chocolate Bundle
COZY ELEPHANT PANTS
The Elephant Pants are a combination of comfort and design, and it's just an added plus that their comfort level will make any wearer happy during the cold weather and pet snuggling season! These pants are truly the most comfortable and uplifting pants anybody will ever own, are guaranteed to put smiles on everyone's faces and come in various designs and colors! Visit here:  Elephant Pants
VIVITAR'S BRAND NEW DVR786 ACTION CAMERA
Capture every moment of the holiday season featuring your pet with the Vivatar new action camera! Key features include versatile, rugged, and pet-savvy affordable! This camera is perfect for pet parents on the go and looking for exciting POV video footage, and also includes a charging cable and both an ATV/bike mount and helmet bracket ! Lights, camera, and action holiday photo of Fido! Visit here: Vivitar
TELIC's DOG WALKING SPORTS & FITNESS FOOTWEAR!
If someone one you know have dogs that (feet) are barkin' from your daily activities, but still have to walk their dog when arriving home, Telic recently announced the perfect anecdote, their sports & fitness recovery footwear called "SHE's Fit!" The idea of "recovery footwear" is coming to the forefront of the footwear industry. Sounds like the perfect gift fit for dog walking pet parents everywhere! Visit here: Telic's Sports & Fitness Footwear – SHE's Fit!
THE ELEGANT HARE CASHMERE

Luxurious pet apparel is what The Elegant Hare offers cats and dogs this holiday season – all the cashmere pet fashions are handmade, and comfy to the fur! Gorgeous gifts for pups and kittens include stunning sweaters, scarves, and neck warmers! Great looking as well as soft and warm for animals all winter long! Visit here: The Elegant Hare
RID CRITTER SMELLS WITH CRITTERZONE
If you know a family member or friend who has been talking about critter smells in their home, meaning their dog and cat, then we found the perfect gift – CritterZone Air Purifier! This powerful compact unit is filter-less and virtually eliminates pet odors, allergens, dust and bacteria! The system uses a new technology, and is small, quiet and discreet! Visit Here: CritterZone
WHISTLE PET HEALTH MONITOR
The gift that can truly be a pet-lifesaver is Whistle's medication and health monitor! The dog monitoring system tracks a pet's health everyday; including medications, treatment appointment reminders, long term health trends, and daily feeding nutrition trends. Nothing better than giving the gift of a better life to a pet! Visit here: Whistle
FRONTGATE'S EXQUISITE DOGGIE DESIGNS
Pamper a pet this holiday with a Frontgate exquisite pet product gift including; collars, harnesses, toys, leashes, bowls and feeders, beds, apparel, and accessories, with the opportunity to monogram! All the high-quality pet products are and made from the finest materials! This gift is sure to impress, and whether it's for your pet or a dear one's pet, some lucky dog with receive a big treat this year! Visit here: Frontgate
ROARING KITNIPBOX
This gift is a kitty's holiday dream come true, Kitnipbox's contain high-quality cat toys, all-natural treats, and other fun, healthy cat products, including a handmade catnip bell, festive fun-filled felt toy, refillable catnip heart toy, and many others! Send someone this holiday cat gift, they'll be purring for sure! Visit here: KitNipBox
KitNipBox supports over 100 animal welfare organizations nationwide. Each month, they donate a portion of proceeds and products to shelters, rescues, TNR efforts, and a variety of other feline welfare causes.
HOWLING BARKBOX TREATS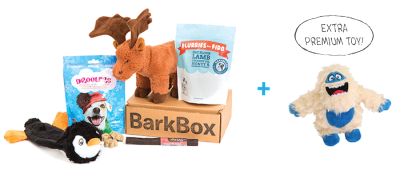 BarkBox makes the perfect gift for friends and family that have dogs! They will send a gift box specially designed which includes natural treats, innovative gadgets and fun toys! You can call with specific requests, and if they don't have it – the staff will try to find it for you! Dog's rollover in holiday joy with this gift! Visit here: BarkBox
A portion of profits from each box will go to dogs in need, and supports Animal Rescue, Inc.
Animal Fair Media's Wendy Diamond and entire team wish everyone a howling, happy, and healthy holiday season!
Woof-woof!
For the Best that Pet Lifestyle and Animal Welfare has to offer follow Wendy Diamond on Facebook, Twitter, and right here at AnimalFair.com!
Comments
comments