Women's Entrepreneur Day (WED) 2015 ignited women around the world on November 19th to empower other women! Animal Fair Media and WED Founder Wendy Diamond hosted the global UN event, and rallied the world over with royal families, celebrities, self-made women billionaires, Fortune 50 companies, and politicians. Such notables as Leona Lewis, Muffy Macmillan, Mamie Gummer, Andrea Jung, and everyday people worldwide volunteered, participated, and supported with empowering women and girls through a collective global shift of action and awareness!
"I have dedicated my entire life to helping the "underdog" get a chance to thrive," said Wendy Diamond. "Historically, women worldwide have been underpaid, undervalued, underrepresented, underfunded – and underestimated. We are dedicated, determined, and driven to change this status – the women entrepreneurs involved in WED are inspirational role models to women everywhere!"
Women's Entrepreneurship Day is a worldwide movement that carries throughout the year in support of female entrepreneurs on every continent. The defining goal is to empower women and their businesses, as well as gather a think tank of women leaders, which will ultimately create an amplified merged message to expand businesses with social good initiatives in communities locally and globally.

WED 2015 gathered an influential and powerful list of worldwide attendees, speakers, influential organizations, leaders, and entrepreneurs supporting women that joined at the UN on this day of WED as "ONE DAY TO CELEBRATE, SUPPORT AND EMPOWER WOMEN ENTREPRENEURS WORLDWIDE." Major Fortune 500 companies and various female company founders, CEO's, Creatives, and business leaders that participated include; Adena Friedman (President NASDAQ), Andrea Kerzner (Founder and CEO of the Lalela Project), Amir Dossal (Founder and Chariman of Global Partnerships Forum), Craig Newmark (Founder of Craigslist), Cynthia Cohen (Strategic Mindshare Founder and President), Danielle Gelber (NBC Executive Producer), Diane Brady (Former Senior Editor Bloomberg Businessweek), Erika Karp (Founder and CEO Cornerstone Capital), Heidi Messer (Co-founder of Collective [i] and Linkshare), Leslie Blodgett (Creator of bareMinerals), Milena Berry (Co-founder and CTO PowerToFly), Kunal Sood (Executive Producer and Curator at TEDX UN Plaza), Sophia Swire (Founder of Aayenda and Future Brilliance), Susan Stautberg (Co-founder and CEO of Women Corporate Direct), Tamara Etmannski (Founder of Stackz), Vicki Escarra (Global CEO of Opportunity International), Martha MacMillan (Board Director of Cargill Inc. and Waycrosse Inc.), James Benedict (Advisory Board at Acupera and Principal with Kidd & Company), Katharina Sophia Volz (Founder and CEO of OccamzRazor), Mamie Gummer (Actress, Activist), Alysia Reiner (OISTNB Actress, Activist, Writer), Leona Lewis (Singer, Songwriter, Animal Advocate), Cheryl Liu-Lien Tan (Author) and many more click here!
Global Ambassadors celebrated in every continent, from Rwanda to Saudi Arabia and  activated their communities with the WED movement and message during worldwide activities on the day of the event! We partnered with USASBE and the event was live streamed in 110 universities/colleges across the globe reaching 1.2 million young women, students, and millennials.
Highlights and successes from WED 2015 are many! We are pleased and honored to announce our impressive winners of the Women's Entrepreneurship Day Pioneer Awards 2015. The women receiving the awards have established themselves as pioneers and trailblazers in the following categories; Education, Technology, Philanthropy, Beauty, and Music and Sports!
We decided to make the Pioneer Awards 2015 impactful and partnered with Lalela Project, and had at-risk girls design the awards! The Lalela Project provides educational arts for at-risk youth to spark creative thinking and awaken the entrepreneurial spirit. By linking arts education to academic achievement, social and emotional development and civic engagement, Lalela teaches at-risk students in South Africa, Northern Uganda and the Bronx how to map and manifest their dreams and goals, launching the possibility of a different future for themselves and their communities. Lalela also offers specialized programs based on the needs of the communities they serve. Lalela has developed a signature art curriculum, called Heart Mapping. Using this method, a female student created each award winner a beautiful piece of customized art for the award!
WED 2015 Pioneer Award Winners include:
• Philanthropy Pioneer Award: Martha "Muffy" MacMillan – Board Director of Cargill Inc. and Waycrosse Inc.
• Education Pioneer Award: Kelly Chezum – Experienced External Affairs, Marketing, Governance and Strategy Leader for Clarkson University, Adirondack North Country Association
• Technology Pioneer Award: Heidi Messer – Co-founder of Collective [i] and Linkshare
• Beauty Pioneer Award: Leslie Blodgett – Creator of bareMinerals
• Music Pioneer Award: Leona Lewis – Singer, Songwriter, Animal Advocate
• Sports Pioneer Award: Jen Welter – First NFL Female Coach – Arizona Cardinals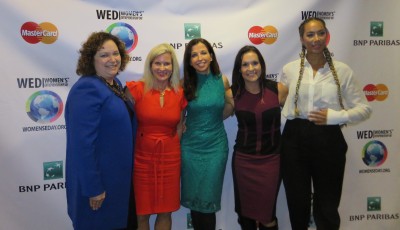 Our WED 2015 MC was smart and funny lady Oscar winner Kristen Anderson-Lopez, she hosted the event and all guests were howling and rolling over in their seats! This empowered woman is amazingly accomplished, named in the Time 100, interviews with every publication, TV & movie outlet! She often talks at various global events about the importance of supporting women globally, in a humorous, unique and truthful way!
Intuit Inc and Kiva Zip.org have been inspired by WED 2015 and have partnered to make it easier for underserved small businesses to obtain loans through the QuickBooks Financing Platform. To further bolster the initiative, the Intuit Financial Freedom Foundation (IFFF) established a $50,000 loan matching program on Kiva Zip, half of which will be designated for women-owned small businesses in support of Women's Entrepreneurship Day. Visitors to KivaZip.org can choose a small business owner that they want to support with a loan of $25 or more. That loan helps to crowdfund the borrower's full loan request. IFFF's loan matching will match what the public crowdfunds, doubling the public's impact. As a result, underserved small businesses seeking credit through the QuickBooks Financing platform could get funded twice as quickly. Small business owners featured on Kiva Zip include artisans, immigrants, refugees, veterans, small farmers, neighborhood shops and home-based businesses across the country.
Bank of the West was proud to share its ongoing commitment to women's entrepreneurship by announcing a new $25,000 partnership with the Business Outreach Center Network, headquartered in Brooklyn, NY. The gift will support the BOC Network's Women's Business Center (WBC), offering business training, one-on-one counseling, and financing resources to help women entrepreneurs start and grow their businesses. Through the partnership, Bank of the West and BNP Paribas professionals will work directly with WBC clients as part of a new mentorship program to provide the skills, guidance, and support necessary to fully realize the potential of New York's next generation of women entrepreneurs.
We are profoundly grateful to all of our presenters, partners, and participants that journeyed from around the world to join us at the United Nations event which expanded the dialogue of endless possibilities. Thank you!
On November 20th, 2015, the Women's Entrepreneurship Day team rang the closing NYSE bell, tolling in celebration of all women and girls worldwide! Watch it live here!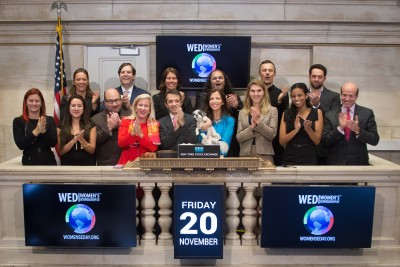 The WED 2015 team is incredibly grateful for the unprecedented support of our sponsors and their deep commitment to the WED mission. They are instrumental with making our annual global event possible. This year's WED sponsors include Bank of the West, PwC, Intuit, Kirkland & Ellis, MasterCard, and BNP Paribas.
Here are some memorable quotes that highlight the spirit of our WED 2015:
• "The power of entrepreneurs is that they can see what others can't."- Heidi Messer, Co-Founder of Collective[i]
• "Everyone has a voice; use it to do something meaningful… I have to use my voice to do something meaningful."- Leona Lewis, Grammy Award Nominee
• "Being an entrepreneur is like jumping out of a plane and building the parachute on the way down."- Erika Karp, Founder and CEO of Cornerstone Capital Inc.
• "Fame and money should not define success. Friends, family and a purpose in life should define success."- Wendy Diamond, Founder of Women's Entrepreneurship Day
"We strive for a 50/50 male/female workforce, we're at 40 – we need more women in tech. We started #Girls4Tech with our employees to excite young school girls for #stem."- Raja Rajamannar, CMO of MasterCard
We are continuing the conversation of empowering women worldwide, and are delighted to announce that on December 2nd, we will activate our social media platform #WomenWOW! We will rally, engage, and motivate women and men globally to pledge their support to a women-owned business and cause worldwide by donating their Time, Talent or Treasure. Join us for the #WomenWOW global movement and together let's empower women in business worldwide!
For more information about joining or signing up for #WomenWOW as a women-owned or led business or cause click here!
For the Best that Pet Lifestyle and Animal Welfare has to offer follow Wendy Diamond on Facebook, Twitter, and right here at AnimalFair.com!
Comments
comments