Meow! You'll never guess who roared into Animal Fair Media's NYC office this morning! None other than top cat behaviorist and star host of Animal Planet's hit show My Cat From Hell – Jackson Galaxy!  Join the larger than life, self-proclaimed "Cat Whisperer" Jackson Galaxy as he restores harmony to the homes of some hapless humans and their infuriating felines!
Galaxy knows that working with Cats it's not always a walk in the park, but he is dedicated towards opening up the line of communication between these purring pugilists and their pet parents. And Galaxy doesn't always play by the books. This animal empath by day is a rock star by night and has the guitar case full of cat therapy toys to prove it! The cats featured on this show range from timid to aggressive, but Galaxy is always up for the challenge. Watch as homes and families on the brink of feline fallout are repaired, revitalized, and revamped!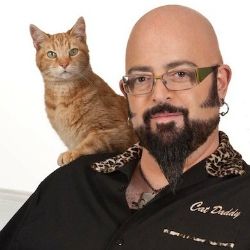 Galaxy's second book, Catification, is a purrfect read with a unique blend of design and animal behavior, and it teaches how to create the optimum cat-friendly environment without sacrificing eye-catching aesthetics. You can order Catification by clicking here!

A cat behaviorist with more than fifteen years of experience, Galaxy specializes in helping individuals whose "out of control" cats are turning their lives and homes upside down.
Leap and pounce at the chance to catch Jackson Galaxy on Animal Planet's – My Cat From Hell!  Click here for all the details!
For the Best that Pet Lifestyle and Animal Welfare has to offer follow Wendy Diamond on Facebook, Twitter, and right here at AnimalFair.com!
Comments
comments