Animal Fair Media congratulates Inaoyom Imong for winning The 2015 WHITLEY AWARD, donated by the Garfield Weston Foundation, for his work with protecting the Cross River gorilla! The UK's Her Royal Highness The Princess Royal, a WFN Patron, presented the award. Inaoyom's extraordinary efforts with saving the endangered Cross River gorilla in Nigeria and Cameroon, is making an impactful wildlife difference.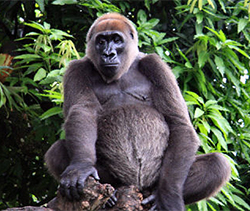 He is the Director of the Cross River Gorilla Landscape Project at the Wildlife Conservation Society in Nigeria, and works directly with nine local communities. His project has established a Community Conservation Association that manages a core area at the heart of the Mbe Mountains.
The Cross River gorilla is Africa's most endangered great ape, with only 300 left of this subspecies in existence, and ranks among the world's 25 most endangered primate species. The reason for the gorilla's decline is illegal hunting for bushmeat by poachers, and habitat loss caused by human population growth and logging.
Inaoyom is very accomplished, and uses his talents to protect the great Cross River gorillas. He has a PhD in Primatology from the Max Planck Institute for Evolutionary Anthropology, Germany and a MSC in Conservation Biology from the A. P. Leventis Ornithological Research Institute, University of Jos, Nigeria. He received the WCS Graduate Scholarship Award in 2009, the GRASP-Ian Redmond Conservation Award in 2013! He's a member of the Scientific Commission of the Great Apes Survival Partnership (GRASP), and also the IUCN/SSC Primate Specialist Group. He joined the Wildlife Conservation Society in Nigeria in 2004. Quite impressive!
Inaoyom revealed the facts about the ape crisis in an interview, "This is a very poorly known subspecies of gorilla. It is found only in the border region between Nigeria and Cameroon — quite a large landscape, 12,000 square kilometers, and most of it is still forest. The actual area occupied by the gorillas is very limited, mainly because of human disturbance, so the population is very fragmented. There has been a long history of hunting these animals that has forced them to use only hilltops as refuge areas. Most of the population is already within protected areas, but one-third still live outside of protected areas in community land without any formal protection."
Watch This Video Of Inaoyom Imong And The Cross River Gorilla Landscape Project
Animal Fair Media encourages anyone who wants to help Inaoyom Imong save the Cross River gorillas of Nigeria and Cameroon to click here for more information on how to get involved: The Cross River Gorilla Landscape Project at the Wildlife Conservation Society in Nigeria.
For more information on Cross River Gorillas visit: Wildlife Conservation Society in Nigeria
For the Best that Pet Lifestyle and Animal Welfare has to offer follow Wendy Diamond on Facebook, Twitter, and right here at AnimalFair.com!
Comments
comments