Fall season means back to school for your kids, but what does it mean for your pets? Just because there aren't any public schools for dogs, doesn't mean your pet can't get a formal education at home. All you need are the right toys. That's right, dog toys can help alleviate boredom and loneliness, distract from separation anxiety, prevent behavioral problems, teach good behavior, reduce stress, and help channel pent-up energy. So in honor of back to school days, Animal Fair has compiled our list of ten educational toys that will help teach your pet!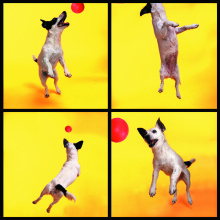 1. Kyjen Hide-A-Squirrel Plush Puzzle
The Kyjen Hide-A-Squirrel Plush Puzzle is a fun, educational way to entertain your dog's curiosity while educating its adventurous side. The toys build a dog's intelligence besides problem and puzzle solving skills. The puzzle comes in three sizes: large, junior and jumbo – tailoring to the curiosity of pups of all different sizes. Visit: Kyjen.com.
2. Pezzi Gymnastic Balls
These colorful training balls are essential for educating your pet on how to stay fit. They help strengthen your dog, targeting either forelimbs or hind limbs, while teaching your pet how to have a fun workout. Available at CleanRun.com.
3. Dog Agility Tire Jump
If you want to help your dog's agility IQ, this is the product for you. The Dog Agility Tire Jump will have your dog looking like a Westminster champion in no time. It's easy to use, adjustable, fun for your dog and foldable! Visit: CherryBrook.com.
4. Biscuit Ball by Kong Company
Kong Company's Biscuit Balls are the perfect mental and physical stimulation to help your dog learn patience and develop curiosity (as if they need it). With a hollow center and four bone-shaped ports to hold all varieties of dog bones, food and treats, there will always be a reward when your pup is finished "studying."  Visit: PetMountain.com.
5. Top Paw Vinyl Training Dummies
The Top Paw Vinyl Training Dummies teach your dog how to "soft bite" with its bone-shaped nibs. The toy also floats in water to allow your dog beginning swimming lessons while playing fetch. Visit: PetSmart.com.
6. Dog Fisher Rod & Reel
Cast your lure 20 feet with the Dog Fisher Rod & Reel. Great for puppies, this toy will help your pet learn the essentials of catch, chasing and building initial agility. The toy also comes with a mini tackle box. Visit: ThePuppyShop.com.
7. Zoo Active Products
Swedish dog trainer Nina Ottosson developed an entire line of wooden dog products specifically designed to help stimulate your dog's brain. Many of the toys are puzzles that will build mental and physical stimulation and totally alleviate boredom. Visit: CompanyOfAnimals.co.uk.
8. Tug of 4 Dog Ball
The Tug of 4 Dog Ball is both a toy and a group lesson. Perfect for a multi-dog home, the Tug of 4 has four balls connected to its center so it will teach dogs how to interact with one and other.Visit: ILuvMyPooch.com.
9. Puzzle Plush Pup Intellibone
This six ring Intellibone is designed to turn your pet into a puzzle-solving star. Once your dog has figured out how to remove the rings, load them back up and the fun starts all over again! Visit: Kyjen.com.
10. Ruff Wear – The Lunker Interactive Retrieval Training Toy
When your dog is ready to play a real game of fetch, the Lunker Retrieval Toy is indispensable for the expert dog. This floating toy with durable throwing elastic will have your dog learning to scout out the colorful toy at great distances. Visit: BassPro.com.
For the Best that Pet Lifestyle has to offer follow Wendy Diamond on Facebook, Twitter, and right here at AnimalFair.com!
Comments
comments