Denis Leary stars in a new series on FX called "Sex & Drugs & Rock & Roll." Leary plays an egotistical 50- something- year- old who has tried his whole life to make it big as a rock & roll star.
Although Leary only plays a wannabe rock & roll star, he does have three furry groupies: Daphne, Gomer, and Holly!
Leary is very close with his three canine children! Here is his smallest, Holly, who is a cute little terrier mix…
Next in size is Daphne who is an adorable Labradoodle!
And lastly, this is the very handsome Gomer who is a Leonberger!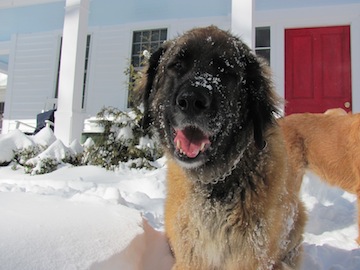 Leary talks very highly of his groupies! "All the animals in my house think they are smarter than me – and they well may be. They're constantly reminding me about everything." This insanely furry rat pack of pups may be intelligent, but one thing we can be absolutely sure of is that they are extremely adorable!
Catch Denis Leary's new show Thursday nights at 10 pm on FX!
Go out and find a new furry friend today! ADOPT!
For the Best that Pet Lifestyle and Animal Welfare has to offer follow Wendy Diamond on Facebook, Twitter, and right here at AnimalFair.com!
Comments
comments