Consider an enormous wooly mammoth traversing the widespread polar landscape 12,000 years ago during the last Ice Age.  How was such a creature able to withstand the frigid sub-zero temperatures that characterized the glacial climate?  The answer lies in the adjective describing its common name: wooly.  Most of the seemingly adorning features that animals boast are there for a reason.  Certain reptiles are brilliantly colored or have camouflaging capacities to avoid threatening predators.  Similarly, many mammals are equipped with thick layers of blubber or heavy coats of fur to protect their warm-blooded bodies against an abiotic predator: cold temperatures.
Our common mammalian pets are also graced with such coats.  While our human bodies are lightly dappled with thin hairs, theirs are entirely blanketed by dense forests of furs.  It gets warm under there!  While dogs may be supremely efficient in fetching tennis balls or carrying in the morning newspaper, their ability to release heat is inadequate compared to the human facility to regulate high temperatures.  Though we may not always appreciate it, we are blessed with pores that are distributed evenly across our entire bodies, allowing us to sweat and purge ourselves of excessive heat.  On the contrary, dogs can only sweat through their paws and cool off through panting.
As the summer season approaches, it is important to keep the susceptibilities of our loved pets to heat exhaustion in mind.  In order to thwart the health risk in dogs, preventative measures can be taken.  The simplest and most vital action that we, as pet owners, must take is to ensure that our pets have a constant supply of cool, fresh water.
While providing dogs with the opportunity for exposure to the energizing rays of the sun and the inviting expanses of open land for running, one must monitor his or her pet and put a healthy limit on exercise and the sun, which can be harmful if exposed in great quantities.  If a pet spends most of it's time outdoors, make certain that sufficient areas of shade are available. Place water bowls with refilled fresh water several times daily in the shaded areas.
Another approach some dog parents take is to give their pet a "puppy cut" or a "summer cut".  Dogs naturally shed some of the bulk of their winter coat during the summertime, but shaving the dog further is also an option.  However, a veterinarian should be contacted before taking this step, as some breeds of dogs benefit from their coats in summer due to its tendency to attract and trap cool air near the body.
If your pet begins to exhibit abnormal behavior in the summer months, do not ignore it.  Disobeying commands, displaying anxious expressions, heavy panting, and lethargy can all be warning signs of heat exhaustion.  Other physical symptoms may include rapid heartbeat, vomiting, and warm, dry skin.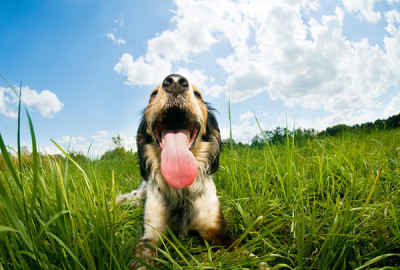 Heat exhaustion in pets is curable and rarely leaves any permanent or long-term health effects.  However, if left untreated, it may lead to heat stroke or even death.  As you become wary and monitor your dog for biotic threats common to summertime (such as fleas, ticks, and heartworm), do not dismiss the abiotic factors that can be just as damaging.  Remember: your dog's fur probably covers more area on its body than your summer clothes do.  If you are feeling drained by the potent rays of the sun, your dog is likely experiencing exhaustion as well!  Be alert to the unique body language that your pet communicates to you and respond accordingly.
For the Best that Pet Lifestyle has to offer follow Wendy  Diamond on Facebook, Twitter, and right here at AnimalFair.com!
Comments
comments