If you're looking for a good reason to monkey around this weekend catch Disneynature's documentary Monkey Kingdom, released April 17th nationally. The film is directed by Mark Linfield and Alastair Fothergill, and narrated by funny lady Tina Fey.
The monkey tale follows Maya, a toque macaque, over a three year period in the jungles of Polonnaruwa and Sri Lanka. Lots of shenanigans start when Maya and her son Kip try to gain family status among other family monkey members. Much drama ensues when another neighboring group of monkeys try to take over Maya's territory, and she's left to find a new home for her entire kin.
Monkey Kingdom is Disneynature's eighth True Life Adventure. Primatologist, Ethologist, Anthropologist, UN Messenger of Peace, and Disneynature Ambassador Jane Goodall lends her voice to support conservation for all endangered animals around the world.
Goodall comments, "Macaques, like the baboons that we study in Gombe, as well as chimpanzees are very curious, very entrepreneurial. They're not afraid to try something new. They can be mischievous, they clearly have fun and there can be aggression when it comes to protecting their territory. There's always something happening. I think that's what makes them such great personalities to film."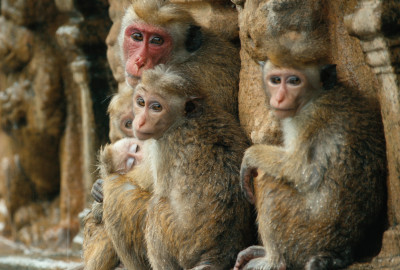 Money Kingdom is being released this weekend in celebration of Earth Day (April 22), if you swing by and see the film within the first week, a donation will be made to protect monkeys and other endangered animals through Conservation International.
For the Best that Pet Lifestyle and Animal Welfare has to offer follow Wendy Diamond on Facebook, Twitter, and right here at AnimalFair.com!
Comments
comments