It's time to take flight! Four cuddly koala bears were gifted to Singapore in honor of the country's 50th anniversary of their independence. What these koalas didn't know was that they were going to be riding from their native land of Qantas in style!
They were treated to the finest of gum leaves and top-shelf eucalyptus. The lemonade and hot towels that the stewardesses were offering did not interest these little buddies, but they were enjoying themselves just the same.
I'm sure the adorable animals were loving the extra leg room, entertainment, and reading supplements! What's a koala to do on a long flight, you know? Unfortunately, their first-class accoutrements only last a short while as they were escorted back to the plane's cargo hold for the remainder of the taxing flight.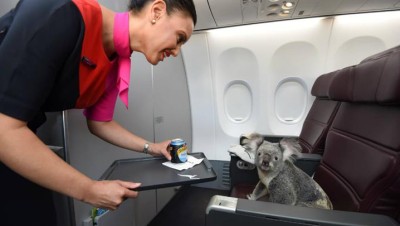 This is what happens when huggable koalas are let loose on a first-class flight, and it cannot be argued that the result is purely adorable! How can you not love this?!
Although it is illegal to own a koala as a pet, it is always nice to dream! The second best option is to symbolically adopt.
To adopt one of these cute koalas, click HERE!
For the Best that Pet Lifestyle and animal welfare has to offer follow Wendy Diamond on Facebook, Twitter, and right here at AnimalFair.com!
Comments
comments