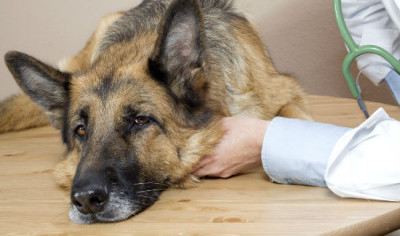 It's time for a trip to the vet! Laboratory scientists from Cornell University and the University of Wisconsin have found that two strains of the influenza virus, H3N2 and H3N8, have afflicted more than 1,000 dogs in Chicago in the Midwest. Additional testing shows that the H3N2 strain of the virus stems from Chinese and South Korean breeds of dogs, which is responsible for the outbreak in Chicago. This strain has never been previously detected in North America; H3N2 is relatively new considering the H3N8 strain has been in circulation in the United States since 2004. The H3N8 strain is what is infecting canines across the Midwest. There is no evidence that both of these could be transmitted to humans.
Both Influenza strains can cause high fever, loss of appetite, coughing, nasal discharge, and lethargy. Symptoms may be more severe in cases caused by the H3N2 virus. A trip for a check up is a must because some infected dogs may not show any symptoms at all.
Watch out for your furry feline friends too! H3N2 has caused infection and respiratory illness in cats.
It is not known if the current vaccine will provide any protection from this new virus. It does protect against H3N8, which is in circulation in some areas. In areas where the viruses are prevalent, avoid places where dogs come together and interact, such as dog parks and grooming salons.
Here are some quick tips to save your dog from the dreaded sniffles:
Check with your local veterinarian to see if there is an outbreak in your area
Be on the lookout for strange behavior or discharge from your dog
If you are aware that an outbreak is in your area. It's better safe than sorry and keep your pet at home.
Vaccinate your dog against the flu if it's constantly meeting new dogs
Cheap is not always good. Be wary of pet services that have dirty facilities or check reviews.
Always take it seriously. Secondary infections is what turns the flu fatal.
Unfortunately the flu can be mistaken for another common disease, Kennel cough. Going to your vet can save your dog's life, so it is advised to take a trip as soon as possible!
Adopt a precious pooch HERE!
For the Best that Pet Lifestyle and animal welfare has to offer follow Wendy Diamond on Facebook, Twitter, and right here at AnimalFair.com!
Comments
comments