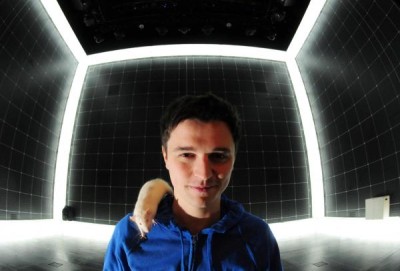 Animals are often the key to capturing an audience's attention during a Broadway play. They offer a sense of curiosity because animals (unlike humans) are emotionally immune of the repercussions if they fail to do their job. Actors just have to deal, and we like to watch! Well, two animals that definitely caught my attention were Dr. Watson, the Golden Retriever and Toby, the rat in the Broadway production of The Curious Incident of the Dog in the Night-Time.
This brilliant play revolves around a fifteen-year-old boy named Christopher who has an incredulous brain; he is extraordinarily intelligent but ill-equipped to interpret everyday life. He has an autistic spectrum condition. When he falls under suspicion for killing his neighbor's dog, he decides to investigate despite his fathers orders. On his mission to revealing the true culprit, Christopher uncovers an earth-shattering discovery and a embarks on a perpetually life-changing journey. Toby plays Christopher's pet rat.
Animal trainer extraordinaire and owner of Sit Stay Dog Training, Lydia DesRoche, was the special human being sought after to cast the two roles of Toby, and the dog. Coming from New Orleans, she states "I've been in love with all kinds of animals since the moment I opened my eyes." For finding the perfect two rats, she teamed up with Robert Shapiro from Social Tees Animal Rescue. She immediately felt a connection with Toby upon meeting. "I had no idea what Toby was saying, but I knew she was trying to communicate. Everything else happened organically."
As for finding the perfect pooch for Curious Incident, it was a bit more complicated. Finding a Golden Retriever puppy was ruff! "In terms of the puppies, I look for the friendliest, most outgoing puppy in the litter," she continued, "fortunately, the actors have been very open and receptive. They give the animals space and let them make the first move." 
Toby stays in a cage on stage most of the time. However, a little improv led her to a having a big moment. "Toby improvised. She stuck her little head out and kissed him on the lips. It went over so well, that it was added to the show." She does this trick about 80% of the time. Those odds sound good enough for us!
Lydia stays coy about which animal is easier to train! "It depends on the individual animal," she reveals.
In addition to having a shared dressing room labeled "Puppy and Rat Room," Dr. Watson and Toby have become sources of inspiration for their co-stars. "They are completely in the moment. There is nothing about them that's anywhere else than that moment now," Co-star Francesca Faridany said. "That's what we all strive for, for sure, as actors."
This incredible story just exemplifies the fact that animals are great for children with any type of autistic spectrum condition. A pet just overall improves an autistic child's social skill set. New research has found that autistic children with pets are more social, communicative, and assertive than those with out a furry, four-legged companion. One more reason as to why adopting a pet is one of the best decisions you'll ever make! For more information about pets benefitting children with autism, click HERE!
You must see this compelling performance with incredible stagecraft from all actors, both four-legged and two-legged! Toby and Dr. Watson alone are enough to purchase your ticket, but once you see the visually dazzling set and experience the impressive acting you will realize that you've made one of the smartest choices ever!
And, guess what?! The precious pooch in the play is up for adoption! You can adopt him at THIS shelter.
For more information and to purchase tickets to The Curious Incident of the Dog in the Night-Time, click HERE!
For more information about Lydia DesRoche's Sit Stay Dog Training or adopting a dog, click HERE!
Adopt your next pet HERE!
For more information and to support autism, click HERE!
For the Best that Pet Lifestyle and Animal Welfare has to offer follow Wendy Diamond on Facebook, Twitter, and right here at AnimalFair.com!
Comments
comments