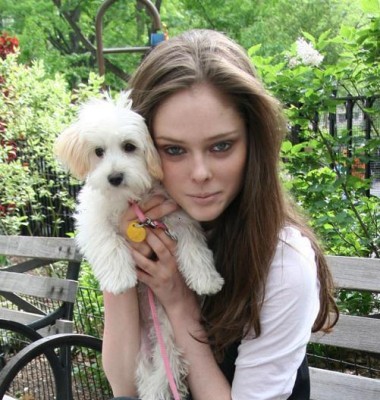 Pet parent, model, style icon, and designer Coco Rocha recently introduced her new clothes line collection – Modern Princess, inspired by the upcoming action packed movie Cinderella! HSN launched Rocha's collection at the screening of Disney's Cinderella this week.
Rocha also shared the big news that she's expecting her first child at the HSN launch event – a little modern princess! She pointed to her baby bump and commented, "I'm excited to have this line! I'm going to get some major brownie points for designing a clothing line inspired by Cinderella!"
The 19-piece "Modern Princess" Cinderella-themed collection will launch next month on March 9th, 2015. Don't look for flowing ball gowns and a missing glass slipper here; envision sleek and fitted pants, skirts, and empowering moto jackets. Okay – so maybe women wearing the line will attract a "modern prince" instead of a fairy tale kinda guy.
"My vision of a modern princess is a woman who has confidence in her own skin," Rocha told InStyle.
Rocha has been an animal enthusiast since she was a young girl. Her furry best friend growing up a dog was named Pepsi.  Her current four-legged love that captures her heart is a mixed pup – Peeks!
Rocha often uses her beauty for good and inspires people to adopt animals through various shelter campaigns, including the ASPCA.
The stunning Canadian 27-year-old model hails from British Columbia and is a mix of Irish and Russian. She began her professional modeling career in 2004 when she was 16 years-old. Rocha understands how young girls in the fashion industry are often subjected to exploitation and unable to stand up for themselves. In October 2013, Rocha proudly stood with the New York State Senate Co-Leader Jeff Klein, Senate Labor Committee Chairwoman Diane Savino, Assemblyman Steven Otis, and Executive Director of The Model Alliance; Sara Ziff as they witnessed Governor Cuomo sign new legislature that ensures ending exploitation and child labor protections extended to models under the age of 18 for the very first time.
The new state law protect child models, qualifies them as employees – independent workers, will be bestowed protections that were denied to them in the past, and shielded from exploitation, abuse, and unacceptable working conditions.
Rocha emotionally commented at the event, "For a long time, these children have needed and deserved the same basic protections afforded other child performers working in New York, and I could not be happier that this is now the case – thanks in no small part to the passion and diligence of Sara Ziff and the Model Alliance."
Rocha is married to James Conran, and they couldn't be happier with expecting their first human pup … Congrats! Animal Fair Media wishes them joy!
Watch this Longchamp "Dancing in the Streets" ad campaign featuring Coco Rocha with a fashionable dog named Liisa Winkler.
For the Best that Pet Lifestyle and Animal Welfare has to offer follow Wendy Diamond on Facebook, Twitter, and right here at AnimalFair.com!
.
.
Comments
comments