The word on the street is that Emmy-award winning ABC sitcom, Modern Family, is making plans to air an episode shot almost completely on iPhones. We're pawing at the chance to see this episode!
The episode entitled, "Connection Lost" takes place entirely on Claire's (played by Julie Bowen) computer screen. While stuck at the airport and desperate to reach Haley (Sarah Hyland) after a big argument, she FaceTimes Phil (Ty Burrell) and the rest of the family to help find her. This was inspired by the constant FaceTiming the co-creater, Steven Levitan, was taking part in with his college-age daughters.
Almost all of the scenes include the cast speaking to the screen, in a "mockumentary" format. This entire episode was either filmed on an iPhone 6, new iPads, or MacBook Pro laptops, which is a first for the show. They didn't receive any product placement from Apple, which is hard to believe but it is in fact true!
The episode is scheduled to air at 9 pm on February 25th.
The stars of the show probably had a blast filming because of the extremely relatable, current theme. However, the real star of the show goes by the name of Brigitte. On the show, her name is Stella. She is a rescued French Bulldog, that made her way to Hollywood with a new owner when her adoptive family didn't want her anymore.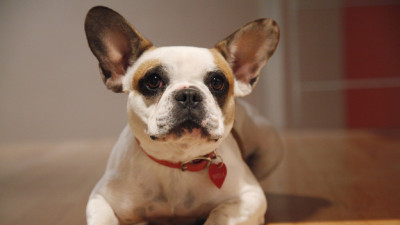 She auditioned for an L.A. rental company and the rest was history! "I brought her in and she just ran around the office and did puppy stuff. Within 15 minutes of me leaving, they called and said, 'She's just too cute, we have to have her,'" reveals owner and trainer Guin Dill. "She definitely got cast on her beautiful looks," which includes her rare combination of white fur and brown spots, known as pied.
Unfortunately, Brigitte stopped appearing on the show in mid-2012 because of disagreements with her owner and the people who hired her, so she was replaced by her understudy Beatrice.
Regardless of which dog plays Stella, animal lover Sarah Hyland is probably in heaven every time she gets play time with the pretty pooch. She refers to Beatrice as "her babe." Sarah is known animal advocate stating, "Pets help people get through the most mundane things in life."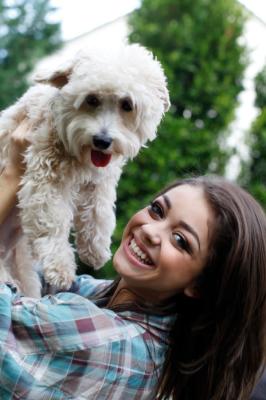 She recently celebrated the launch of a campaign which is helping shelter pets who have just found their forever families embark on a clean start in their new home. This campaign combined the efforts of Swiffer and the ASPCA to help wipe away the worry of shedding, so more families can adopt dogs. 
"I love being a mom to my dog Barkley Bixby and can't imagine life without him," the actress stated. "In fact, I have a little habit of sometimes grooming him myself which causes a hairy mess on my floor. Like most people, I really hate dog hair tumbleweeds so I use my Swiffer Sweeper all the time–it's quick and easy so I can spend more time playing with Barkley on the floor versus cleaning them!"
You can find more information about Sarah's campaign HERE!
Sarah advocates pet adoption and so do we, so adopt your next cute canine HERE!
For the Best that Pet Lifestyle has to offer follow Wendy Diamond on Facebook, Twitter, and right here at AnimalFair.com!
Comments
comments