CONGRATULATIONS to musical genius John Legend for last night's Golden Globe for best original song for Glory from the movie Selma!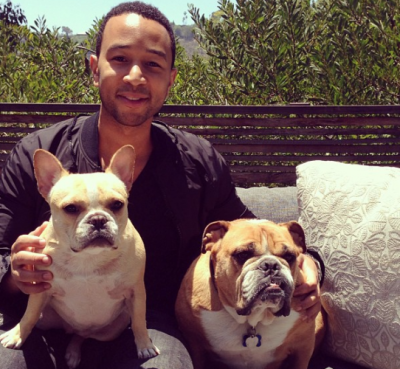 Sports Illustrated swimsuit model Chrissy Teigen and "All of me" John Legend already have two adorable pups. Apparently, that wasn't enough. The two have adopted another furry friend: a three-legged black French bulldog named Penny! Tiegen and Legend are ready to give all of themselves – to their new puppy.
"She's a little tripod. She has been abused, and we are so excited to welcome her to the family," gushed Teigen, 28.
The appropriately P-named pup joins the couple's two other bulldogs, Pippa and Puddy.
"NEW FAMILY MEMBER ALERT!! She is our new little tripod lovebug. Yes. She has 3 legs WHICH IS MORE THAN YOU OKAY," Teigen posted on Twitter when they first adopted. Teigen also explained how Penny won their hearts.
"I won't get too into it but let's just say her first family were buttheads and we are happy to shower her with love for the rest of time!" she wrote.
Penny joins Puddy and Miss Pippa, an English Bulldog and French Bulldog, respectively.
For the Best that Pet Lifestyle and Animal Welfare has to offer follow Wendy Diamond on Facebook, Twitter, and right here at AnimalFair.com!
Comments
comments