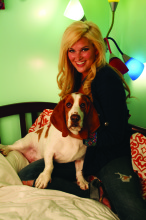 Whitney Thompson, America's Next Top Model's season 10 winner, has a fan hoping to follow in her footsteps: her Basset Hound, Baxter. "He's definitely a model," says Thompson. "He was just on The Tyra Show, so he's making the rounds."
The "handsome" and "very photogenic" Baxter is one of Animal Fair's Most Eligible Pets. Interested ladies, however, will have to get past Baxter's crush: Baguette, who plays Grace in the 2008 film Kit Kittredge: An American Girl. Though they have never met, Baguette is a "really adorable" little Basset Hound, and she's Baxter's favorite actress.
Baxter doesn't have traditional taste; he doesn't like regular dog toys. Instead, "he really likes this Pamella Roland baseball cap that I have. And I have a monkey from Build-A-Bear that he is obsessed with taking the clothes off of."
This eclectic taste might be why Baxter gets along so well with Thompson, a self-described German Shepherd. She compares herself to her family's dog: "She's protective, she's really close to my family, she's really good with children, and she can still be a little rowdy at times. It's a good mix."
Baxter's personality reflects his model nature. Thompson compares him to Naomi Campbell, saying of Baxter, "he's kind of a diva. He likes what he likes when he likes it … he's very spoiled." Baxter spent the interview with his head in Thompson's lap, being petted.
Baxter's attention-getting spirit came out backstage at The Tyra Show. When Thompson opened her dressing room door, Baxter took off down the hallway. "I have no idea where he was going," laughs Thompson. "And, of course, it's full of all these people who are, like, going to The Tyra Show and in hair and makeup and they're like, 'Why is this dog here?'… I had to chase him."
In their off time, Baxter and Thompson go to the dog park near their New York apartment, where they play with the other dogs. Baxter also enjoys walks to Central Park.
Thompson is very involved in charity work. "I'm flying to Los Angeles next week for a runway show for 'Little in the Middle'… and yesterday I was in a charity auction to benefit AIDS research." Baxter himself was rescued from the Tri-State Basset Rescue Society. "I'm really happy that I rescued him … before anything else happened," says Thompson.
For the Best that Pet Lifestyle has to offer follow Wendy and Lucky Diamond on Facebook, Twitter, and right here at AnimalFair.com!
Comments
comments