Words cannot begin to express the sadness we faced globally this week, we lost some amazingly special souls, animal lovers, and truly talented individuals. Lucky and I along with Animal Fair Media would like to express our deepest condolences to the friends and families of the late (and forever great) Ed McMahon, Farrah Fawcett, Michael Jackson and Billy Mays. Each one of these stars is iconic in their own right and internationally celebrated. The Hollywood heavens opened wide, greeting a true angel, Charlie's Angel Farah Fawcett, Tonight Show's Ed McMahon probably ran into Johnny Carson and the laughs and one-liners haven't stopped, Thriller Michael Jackson is almost certainly entertaining with a new version of the "moon walk" titled "heaven walk", and Billy Mays is the newest spokesperson, literally for the "stars". Thank you for entertaining and sharing for all the years, the heavens shine that much brighter now.
Michael Jackson's death was felt and weighed profoundly on our own beloved Animal Fair's (animalfair.com) Pete Carter, who like millions of others was one of Jackson's devoted fans from a very young age. Pete turned his inspired passion into a pet personal project and he now is one of world's leading Jackson impersonators by night (and one of our beloved editors, hair stylist, and videographers by day). Pete adored and respected Jackson, and as fate would have it last April he bumped into Jackson in Los Angeles, where Jackson graciously signed his signature across Pete's back. Pete ran and quickly turned it into tattoo, permanently marking his great muse's name. Lucky also had the lucky chance to meet Michael Jackson years ago and she wants to report that the Neverland Ranch animals were well looked after. Many of the animals recently have been transplanted from Neverland to Lake Powell, Arizona where they will be cared for at a wildlife reserve. Our dear friend, legendary actress and animal activist, Tippi Hedren, stepped up to look after Jackson's two tigers Thriller and Sabu, giving them a home at her Shambala Preserve, Roar Foundation (shambala.org). Hedren explained that Michael Jackson was a true animal lover that provided a comfortable and loving home for his pets.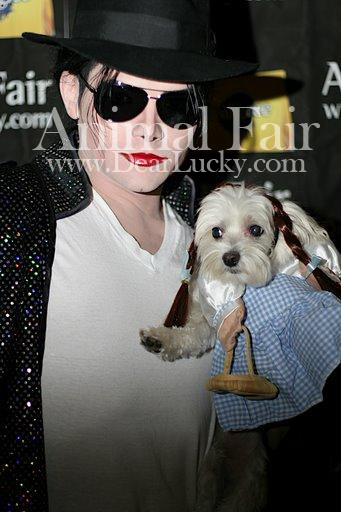 This week Lucky and I attended the opening of Swarovski new Crystallized Concept Store, hosted by Blake Lively. Lucky and I have loved Swarovski since we were pups and are jazzed to have Swarovski join us as one of our sponsors for our 10th Annual Paws for Style (July 27th – tickets available at animalfair.com).
We celebrated the grand opening of Crystallized Concept Store with celebrities such as Chloe Sevigny, Lucy Liu, and Evan Rachel Wood. When our eyes weren't tearing up from the glare of so much bling bling, Lucky and I were able to have a heart-to-heart with Blake about her Maltipoo, Penny. Blake told us that Penny was named after the character from the animated classic The Rescuers. And although Penny is not a rescue, both respect the rescue movement and cause.
Right now I'm getting some "spiritual" culture in Israel, (sometimes even Lucky and I need a break from each other once in awhile) and trying to get some direct sun rays as New York has now officially turned into Seattle (what's with 21 days of rain in June?). We look forward to a memorable July with our 10th Anniversary Paws For Style charity event. We will FOREVER remember the time and those we lost in June. Dog Bless!
Comments
comments