Animal Fair magazine, the nation's first lifestyle magazine for animal lovers, is proud to announce the recipients of our Third Annual Cesar® Five Dog Bone Awards for their excellence in pet-friendly services!  We feel it's our duty to inspect, report and award the top-level pet companies. The recipients are recognized for their exceptional hospitality and services, ambience  cheerful atmosphere and superb cleanliness. Each category winner was awarded for its travel friendliness and overall sense of grooming and style.
The categories are: Pet-Friendly Airline, Automobile, Destination, Hotel, Product, Resort and Shelter.
It's a 'dog-eat-dog' world out there and Animal Fair has very specific guidelines when determining our annual Cesar® Five Dog Bone Awards. The pet-friendly companies that qualify for consideration are based on an Animal Fair Readership Survey. The final decisions for each category are made by a group of select pet-related experts that visit and inspect each nominated category.
Animal Fair would like to congratulate all the 2006 Cesar® Five Dog Bone Award recipients for their dedication to providing the very best pet-friendly establishments that cater to all the pets and their guardians!
Airline: JETBLUE–Page 28
Automobile: PRIUS –Page 28
Destination: ASPEN– Page 30-31
Hotel: LOEWS MIAMI– Page 32
Product: SPOT BOT BISSEL– Page 28
Resort: The PEAKS RESORT –Page 34-35
& GOLDEN DOOR SPA
Shelter: BEST FRIENDS–Page 33
PET-FRIENDLY AIRLINE
JetBlue Airways
Congratulations to JetBlue Airways for winning the 2006 Cesar® Five Bone Dog Award for the second year in a row! Animal Fair readers love this rogue airline for providing luxury travel at ordinary prices, and continual quick, comfortable and hassle-free service for customers and their pets. JetBlue is the only airline that is 100% ticket-free, so forgetful customers can breath easy! Fast, user-friendly check-in machines print electronic tickets upon your arrival, and there are rarely any lines. This is ideal travel for jet-setting pet owners, who can focus all of their attention on their beloved furry friends, rather than on airline red tape! Serving 33 cities in the United States, in addition to the Dominican Republic, Puerto Rico, and the Bahamas, JetBlue will continually add to the interesting locales to visit with your pet, adding Austin, TX and Richmond, VA to its map in early 2006. JetBlue's pet passenger policy allows one pet per passenger-carrier and requests a fee of $50 per pet each way. A combined weight of pet and carrier may not exceed twenty pounds and a pet will count as your one personal item, unless you are bringing a certified service animal or a documented emotional support animal. The pet carrier has to be smaller than 18"x 15"x 8"and able to fit under the seat in front of you.  If you don't have a carrier that complies with JetBlue's regulations, you can purchase one for your worldly canine or fast -track feline at the ticket counter. Once your pet is snug in his or her carrier, you can kick back in leather seating and watch a huge variety of DIRECTV entertainment programs until you've landed. For vacations with your pet, JetBlue Airways will provide the most comfortable and convenient experience at prices you'll wag your tail over! Make sure to enjoy one of JetBlue's 340 pet-friendly daily flights the next time you and your pet plan to take to the sky! For more information, visit: www.jetblue.com/travelinfo
Pet-Friendly Product
Spot Bot Bissell
If you have a dog with a small bladder, or a kitty who keeps forgetting the way to the litter box, and your carpets, once monochromatic and lovely, are beginning to suffer—your days of repositioning the ottoman to cover up Fluffy's pee are over, thanks to Bissell's latest product!  Animal Fair readers voted, and the 2006 Cesar® Five Dog Bone Award for the best cleaning product for pet owners on the market today goes to the Spot Bot Bissell. This wonder-device is programmed with an Automatic Smart System that knows how to measure and distribute the exact amount of water and cleanser to suction up tough stains and make carpets look as good as new. Just place the Spot Bot on the stain, press appropriate start button for surface or set-in stains, and walk away!  Say goodbye to the days of scrubbing on your hands and knees next to a bottle of club soda. While the Spot Bot institutes its spiral brushing technique, to brush, spray and permanently remove Fido's mess, you can catch up on your reading, go for a run, or spend some quality time with your pooch! The Spot Bot Bissell also provides a hose and tools stored on board for complicated stains on upholstery, stairs, or even in your car. It comes with a warranty, and is a great investment for people with wayward pets. For more information, visit: www.bissell.com.
PET-Friendly AUTOMOBILE
Toyota Prius
We've all heard Larry David rave about this car on the hit show, Curb Your Enthusiasm, and now Animal Fair readers want to put in their two cents! They voted for the Toyota Prius as the best automobile of the year.  This sleek, affordable car achieves amazing fuel economy thanks to Hybrid Synergy Drive technology, which combines a gas engine and an emissions-free electric motor, supporting the logic that fewer emissions makes for a healthier environment, and a healthier environment makes for a safer place for you to raise your pet!  In addition, not only do Prius owners save money on outlandish gas prices with 650 miles between fill-ups, but they also receive a federal tax reduction. That's more money to spend on treats and toys for your pooch or kitty! Prius owners who are residents of California, Florida or Virginia get carpool lane privileges, so those of you in a rush to get your pet to the vet don't have to worry about traffic.  While this car is extremely practical, the model also appeals to more stylish drivers. A leather-trimmed interior is now available, in addition to features such as Bluetooth wireless technology for hands-free phone capabilities, Smart Key system, and backup camera. You and your pet will love the style, perks and smooth ride of this award-winning vehicle!  For more information, visit: www.toyota.com.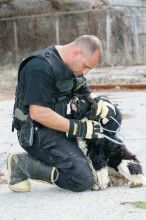 Pet-Friendly SHELTER
Best friends ANIMAL SHELTER
Best Friends Animal Society and one of its finest programs, "No More Homeless Pets" in Kanab, Utah, is the best charity organization of 2006 picked by Animal Fair's readers as the winners for the most Pet-Friendly Shelter! Congratulations for really wowing us with your superior efforts and results when rescuing the helpless four-legged victims of Hurricane Katrina, and decreasing the number of Utah's lost and abandoned animals who were usually euthanized instead of adopted. Best Friends Animal Society helped raise millions of dollars in donations and they remain dedicated in making sure the local animal welfare organizations are staying on top of their commitment in the wake of Hurricane Katrina.  One of Best Friends' most successful programs is "No More Homeless Pets" also based in Utah. Through this charity program the main focus is on an increase in both adoptions and spay/neuter surgeries, with the ultimate goal of ending all in-state euthanasia. They have instituted several programs such as "The Big Fix on Tour", a mobile spay/neuter clinic, and Furburbia (see page 73), an adoption center and boutique. Both of these organizations' efforts have fostered impressive results, and Animal Fair recognizes the devoted success of the Best Friends Animal Society and "No More Homeless Pets" in Utah, with the 2006 Cesar®  Five Dog Bone Award for best shelter!  For more information, to volunteer, get involved in charity programs, or to make a donation, visit: www.bestfriends.org.
Pet-Friendly Destination
Aspen, Colorado
Animal Fair's readers have spoken and dogs everywhere are barking! Kudos to our 2006 Pet-Friendly Destination winner: Aspen, Colorado! Already known globally by skiers for its quaint charm, spectacular mountain views, gourmet eateries, and nightly hot spots, now this celebrity hang-out is recognized for being the ultimate pet-loving getaway for pet owners and pets alike! Aspen is not just a winter retreat, but also provides pet-friendly activities for your canine and the entire family throughout the year, including hiking, rollerblading and many cultural events to make for a festive time had by all! Discover more about Aspen's doggie dining and canine complementary restaurants, boutiques and activities!
Pet-Friendly Hotel
Loews Miami Beach, Florida
Animal Fair readers realize that when traveling with your pet, it's always important to reach your destination and find a hotel that makes an extra effort to accommodate pets, and this year they proudly award Loews Miami Beach for being the most Pet-Friendly Hotel. This "SoBe style" beachfront property located on Florida's South Beach offers "Pampered Pets" amenities that will have your pet rolling in the sand and jumping in the waves with joy! Head Chef Marc Ehrler, a dog owner himself, oversees the Loews Miami Beach restaurants, and adds a special TLC ingredient to every pet dish that leaves his kitchen, ensuring that your feline or pooch will enjoy the best meals possible while on vacation! Congratulations to Loews Miami Beach for proving that it truly does love pets! For more information, visit: www.loewshotels.com/hotels/miamibeach
Pet-Friendly Resort
Peaks Resort & Golden Door Spa
Telluride, Colorado
If you want to reach your zenith while vacationing with your pet, then check-out Animal Fair's readers' choice for Pet-Friendly Resort: The Peaks Resort & Golden Door Spa located in panoramic Telluride, Colorado! A "heaven on earth" this luxurious resort nestled among welcoming mountains and offers hiking trails and plenty of outdoor activities for you and your pet to run free, exercise and feel rejuvenated. The Golden Door Spa extends a "Leader of the Pack" day doggie package that will have your pet feeling like a  pampered pedigree! A healthy eating experience, water exercises, Frisbee games, and many more activities are just a few Fido-friendly perks that The Peaks Resort & Golden Door Spa offers your pooch. You and you pet will hit your highest point when visiting our exclusive winner of the most Pet-Friendly Resort! For more information, visit: www.thepeaksresort.com
Pet–Friendly Destination: Aspen, Colorado
This year, Animal Fair readers voted Aspen, Colorado as the most pet-friendly destination. Here, animal lovers can rub elbows with celebrities and enjoy some of the best skiing in the country. "Where else can your dog stay in a five-star hotel, get doggie biscuits at the front desk of any bank or retail store, and have the concierge take them for a daily walk?" exclaims Michael Brands, photographer for Photographers Aspen. You and your pet will adore this world-renowned resort town's year-round natural beauty, the multitude of outdoor activities that are available,  adorable restaurants and boutiques, and everyone's general adoration for animals.
"Aspen is one of the most beautiful locations on earth—no matter what season you come to visit," says David Hiser, also a photographer for Photographers Aspen. "In the warmer months you can choose from hundreds of local hikes, horseback riding, llama pack trips, camping, rafting, paragliding, etc. In the winter, you can partake in early- morning nature tours on top of mountains, on snowshoe, and of course you can ski, snowboard, ice skate or dog sled.  If outdoor recreation is not your thing, take advantage of the multitude of cultural events in the area."
Animal Fair has scouted the must-see places and must-do activities Aspen is waiting to offer you and your pet. But first, check out our picks for the best places to stay with your pooch!
ST. REGIS RESORT
You and your pup will feel like royalty at this breathtaking mountainside resort, where four-legged visitors are treated to plush, five-inch thick doggie beds, ceramic dog dishes, toys and treats. While guests ski, snowboard or snowshoe, St. Regis' dog-sitting service will make sure that your pup gets to enjoy the great outdoors too, providing chaperones to accompany your pooch on hikes, play ball with him, and  offer plenty of human interaction while you explore Aspen's world-class recreation. In addition, the hotel's "borrow a pet program" offers vacationers who are traveling without pets to enjoy the company of an adorable, adoptable pooch for the day. "Many dogs have been adopted from our program," says Maureen Poschman, Public Relations Director. "We enjoy treating Fido as well as we treat our guests," explains Erin Lenz, Promotions Manager. Truly a relaxing and luxurious experience, the St. Regis Resort in Aspen is ideal for you and your pampered pet to vacation.
315 Dean Street
(970) 920-3300
www.stregisaspen.com
LITTLE NELL
If you like the quiet comfort of an inn, but your pooch prefers the luxury and indulgence of a grand hotel, look no further than Little Nell Hotel. It is conveniently located at the base of Aspen Mountain, and proves to be the perfect compromise. Your pet will be greeted with a luxury dog bed, food and water dishes, a personal identification tag and a copy of "Little Nell's Guide to Pettiquette" to make him feel right at home. While you're busy skiing, the Little Nell's dog walking/sitting service will take your pup on a ten-minute walk, and then either escort him back to the room, or if he's the social, energetic type, let him play and sniff in the yard with the other posh four-legged guests. Don't worry about denying Fido the taste of Aspen's fine dining – Little Nell's room service provides a special menu for dogs.
675 East Durant Avenue
970.920.4600
www.thelittlenell.com
Sky Hotel
For a less expensive alternative, this sleek, chic resort also welcomes four-legged guests!
709 East Durant Avenue
970.925.6760
www.theskyhotel.com
Outdoor Fun
It's no secret that Aspen offers two-legged guests a plethora of outdoor opportunities, but there's no shortage of gorgeous, scenic hiking trails on which you and your pooch can shed some of those extra pounds! The Maroon Bells, surrounded by pristine National Forest lands, are possibly the
most photographed peaks in all of North America, and they're a great place to take your pet while vacationing in Aspen. You will also see Maroon Lake, which reflects images
of the Maroon Bells and surrounding wildflowers in its waters. This breathtaking locale has limited accessibility by car but there are bus tours running throughout the day during the summer season. The road is open at no charge to all non-motorized forms of transportation, such as bicycles, skateboards and rollerblades, but you and your pup can always travel on foot! The Rio Grande Trail, located along Roaring Fork River offers a stunning view of Elk Mountain Range and is another option that's perfect for novice bikers and hikers. Perhaps the most popular hiking location is Smuggler Mountain, also known as the "Pride of Aspen".
Shopping with YourCanine Companion
CB PAWS
This specialty boutique located in Hyman Mall in downtown Aspen is stocked with every luxurious goody your pooch or kitty could imagine: gourmet treats, fun toys,   pet carriers, comfy beds, stylish clothing and hundreds of collars and leashes to choose from. Not only does CB Paws carry the premier products for pets, but it also specializes in customer care, providing personal attention to everyone who steps foot (or paw) into their shop. Make sure to stop by and spoil your pet when you're in town!
420 Hyman Avenue Mall
970.925.5848
www.cbpaws.com
Where to Eat
Aspen has some of the best cuisine in the world for you,  your family and four-legged friends to enjoy!
CACHE CACHE
This classic French bistro, which bills itself as "a bit of Provence in Aspen," offers an extensive, delectable and unique menu!
205 South Mill Street
970.925.3835
www.cachecache.com
PINONS
Located in the heart of downtown Aspen, this renowned restaurant offers traditional American fare with a local flair  and an understated elegance that epitomizes Aspen.
105 South Mill Street
970.920.2021
JOHNNY MCGUIRE'S
This friendly, award-winning sandwich joint is a hit with everyone from truckers to socialites. The portions are huge, the ingredients indulgent, and as a bonus Fido will certainly love you when you bring him back some extra deli meat!
730 East Cooper Avenue
970.920.9255
www.johnnymcguires.com
Aspen/pitkin Animal Shelter
Known for its unique "no kill" philosophy, the Aspen/Pitkin Animal Shelter is an organization that refuses to take short cuts when it comes to our furry friends. Thanks to state grants and generous donations from Aspen natives and visitors alike, the shelter has recently acquired the means to rebuild; they plan to open a new facility on an expansive site this March. The shelter provides a dog-walking service in which volunteers accompany your pooch on scenic, riverside hikes for some fresh air and exercise. The new facility will also provide overnight boarding and doggie day care. As with many great shelters, Aspen/Pitkin is foremost committed to finding homes for the hundreds of stray animals they house, and to educating people about animal fairness. Also this unique shelter provides outreach educational sessions, during which children can come and interact with the dogs and cats. For more information or to make a donation, visit: www.dogsaspen.com/ascc, or contact Director Seth Sachson at 970.544.0206.
Pet-Friendly Hotel: Loews Miami Beach, Florida
When it comes to the pet-friendliest hotel, Animal Fair's readers have undisputedly picked Loews Miami Beach Hotel located, on Florida's paradisiacal South Beach,  known for its fusion of cosmopolitan and Art Deco decor, as well as its gorgeous weather. Loews Miami Beach Hotel, like all Loews hotels has a tell-all branded slogan, "Loews Loves Pets" — and they truly live up to their motto!
Loews Miami Beach offers a special pet package called "Pampered Pets". As soon as guests check-in with their pets, they get a gift bag containing a Loews bowl, mat and bottled water for their pet(s)! And if that's not exciting enough, the pet package, although ultimately catering to the canines and felines in your life, has something for the entire family to bark and meow about! Kids get a free movie, and parents receive a complimentary dinner for two at a hotel restaurant. Also, your pet receives a specialized room service menu, pet-friendly walking areas on the hotel grounds, and mini bar treats.
Head Chef Marc Ehrler oversees all three spectacular Loews Miami Beach restaurants: Emeril's Miami Beach, Nautilus and Preston's. Chef Marc is a dog lover and owner himself. His bulldog, Stinky, provides much of his inspiration when preparing pet meals at the hotel. "My dog is an English bulldog, his name is Stinky, the dog is amazing and eats absolutely everything." On cooking meals for the pet guests' palates he adds, "They eat anything, from beef tenderloin, chicken, fish to vegetables. The difference between man and his best friend when preparing meals is that we don't use spices – no salt, no pepper!"
Loews Hotels has launched the nation's first ever learning vacation for pets, the annual Bark Breakfast. Pets everywhere can check into a Loews hotel in San Diego, Denver or Nashville and get pampered while learning a new life-enhancing trick. Learning vacations for pets is one of the biggest travel trends in the nation!
When booking your reservations take the time to inquire about the "Pampered Pets" program in advance as prices and packages may vary per season. It's plain to see why Loews Miami Beach is Animal Fair's 2006 Cesar® Five Dog Bone Award recipient for Pet-Friendliest Hotel with all the heartfelt care and exceptional attention given to pets when visiting this beachfront oasis and pet haven!
Loews Miami Beach Hotel
1601 Collins Avenue,
Miami Beach, Florida 33139
phone: 305.604.1601
www.loewshotels.com/hotels/miamibeach
$14
Pet Friendly shelter: Best Friends Animal Shelter
BEST FRIENDS ANIMAL SOCIETY AND NO MORE HOMELESS PETS
Animal Fair readers honor the Best Friends Animal Society and one of its finest programs, No More Homeless Pets in Utah, as the two best charity organization's of 2006. These organizations' huge hearts shine through with their superior efforts and results in rescuing the four-legged victims of Hurricane Katrina as well as decreasing the use of euthanasia on Utah's lost and abandoned animals.
With the tens of millions of dollars in donations it helped raise, Best Friends Animal Society is making sure local animal welfare organizations are staying on top of their commitment in the wake of Hurricane Katrina.  They've instituted routine assessments of rescue efforts, much of which the Best Friends Society performs through its local shelter. "We've been working on the front lines of Hurricane Katrina relief efforts since late August, and have not given up," says Paul Berry, director of operations. "Our emergency rescue shelter outside of New Orleans still has up to 600 animals on any given day and brings in up to forty animals a day from volunteer rescuers who continue to work in the field."
The organization has recently made a petition to further inspire other local groups whose work, Berry is disturbed and saddened to admit, is far from finished. The petition urges local animal welfare groups to continue their duties, which include providing volunteers to rescue abandoned animals, providing staging areas where they can be brought to safety, and conducting a national adoption drive that lasts as long as there are still stray animals in the streets. "We are inspired by Mayor Nagin's plan to rebuild a better New Orleans," said Berry, who is a native to the city. "If funds remain after the rescue efforts are complete, they should be used to build a better New Orleans for companion animals. Once the remaining pets are safe, we can join together to invest in programs that will radically improve the quality of life for animals in the Gulf Coast region." The programs will include spay/neuter facilities, adoption shelters, affordable health care for pets of low-income families, and legislation to end animal abuse.
Another extremely successful program of Best Friends is "No More Homeless Pets" in Utah, a Utah-based charity that emphasizes an increase in both adoptions and spay/neuter surgeries, with the ultimate goal of ending all in-state euthanasia. They have instituted several programs such as The Big Fix on Tour, a mobile spay/neuter clinic, and Furburbia, an adoption center and boutique. They also organize charity events like Strutt your Mutt. In 2005, No More Homeless Pets in Utah greatly contributed to the 52 percent increase in statewide adoptions and a 30 percent decrease in statewide euthanasia practices.
Both of these organizations' efforts have inspired tremendous results, and Animal Fair would like to recognize the successes of the Best Friends Animal Society and its affiliate, No More Homeless Pets in Utah, with the 2006 Cesar® Five Dog Bone Award for best charity! To volunteer, get involved in charity programs, or to make a donation, visit:
www.bestfriends.org.
Pet–Friendly resort: The Peaks Resort & Golden Door Spa
Before you leave this "heaven-on-earth", stop and ask yourself if your pup might get a hankering for snacks on the journey home. If so, be sure to pick up some "Canine Carry Outs" before you leave, and your pup can munch on fresh-baked doggie biscuits for one last lingering taste of the regal life.
All of The Peaks' combined perks make for an unforgettable vacation experience that assures relaxation as this resort's primary goal is to provide a genuine chance for pet owners to find peace of mind. The Peaks Resort goes to great lengths in order to make certain that the entire family is well taken care of.  Anderson explains, "The dogs' owners enjoy that spa services are available to [their pets] and that they can bring their dogs on vacation. We have a lot of people traveling from both coasts and they appreciate the fact they're able to bring the animal member of their family."
Just one visit to this Colorado spa will be enough for you and your canine companion to see why The Peaks Resort and Golden Spa is heralded continuously as one of the best resorts in the world.
The Peaks Resort & Golden Door Spa
136 Country Club Drive
Telluride, CO 81435
Phone: 866.282.4557
www.thepeaksresort.com
For the Best that Pet Lifestyle and Animal Welfare has to offer follow Wendy Diamond on Facebook, Twitter, and right here at AnimalFair.com!
Comments
comments