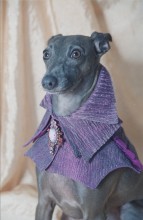 Myra Millicent Bograd started Millicent Ltd. in 1990. She has established herself as a designer of exquisite hand painted accessories, using dogs as art. "I have an affinity for dogs and simply can't live without them!" she proclaims. Millicent is especially excited about "Neklette"- her newest fashion item for the fashionable dog. "Neklettes" are highly styled collars fashioned in luxurious silks and jewels. Some are trimmed with pearls, some in turquoise and others in silver, rhinestones and colorful beading. "People are carrying their beloved four-legged family members in designer handbags and since you can only see their neck, I feel they should be wearing something as stunning!  I don't think it's comfortable for a dog to be wearing something fully covering the body, when it's their head and neck that we see." In addition, any dog wearing "Neklettes" will be ready for the red carpet treatment, whether party hopping, dining out or at a wedding reception! Millicent's pieces have been sold in the finest boutiques and department stores, including the Neiman Marcus Christmas catalog.
Millicent tells Animal Fair, "I have had dogs all my life. I lost my chocolate poodle last year and at the moment, I'm babysitting a grand dog, Buddy. Buddy is a houseguest. I have visitation rights and get him as often as my son will part with him!
For the Best that Pet Lifestyle has to offer follow Wendy and Lucky Diamond on Facebook, Twitter, and right here at AnimalFair.com!
Comments
comments