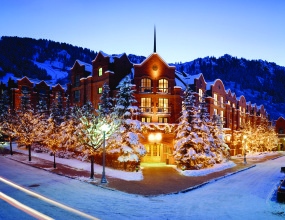 Aspen, Colorado, boasts some of the best skiing in the world for pet owners and their four-legged friends. The St. Regis Resort is the ultimate getaway. "Aspen loves its pets, and we enjoy treating Fido as well as we treat our guests," said Erin Lentz, Promotions Manager.
The St. Regis Resort offers a unique pet program ensuring that your doggie receives royal treatment during your vacation. Every dog is treated to plush, five-inch thick beds with a royal purple seal and individual ceramic dog dishes.
Besides their pet program, the St. Regis Resort also offers a "borrow a pet" program. "We lend dogs out to pet owners or pet lovers who don't have a dog with them," said Maureen Poschman, Public Relations Director. "In fact, some dogs have been adopted from our program." Pet owners and pets alike will enjoy all the beauty Aspen has to offer by going on healthy hikes and scenic walks. Each room is contemporary Alpine décor, and each guest will experience luxurious services.
Prices range from $800 to $4750 per night for a Presidential Suite. Pet fees: $100 per pet, per night, per stay.
St. Regis Resort
800.325.3535
www.stregisaspen.com
For the Best that Pet Lifestyle has to offer follow Wendy and Lucky Diamond on Facebook, Twitter, and right here at AnimalFair.com!
Comments
comments