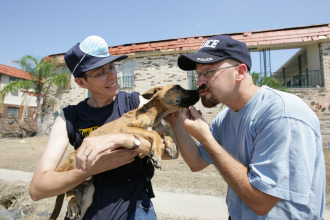 Indigo Rescue is a Portland, Oregon based non-profit animal rescue group founded in 1998. They are a network of volunteers and foster homes, whose primary mission is to end animal abandonment. Indigo launched convenient spay/neuter programs designed to encourage spay/neuter of cats and dogs and discourage abandonment of cats by irresponsible renters and others. They rescue dogs that are deemed "unadoptable" in a shelter environment and slated for euthanasia.
Six Indigo volunteers, including one veterinarian, went to New Orleans after the hurricanes hit, to participate in "Search and Rescue" of animals trapped in their homes and abandoned on the streets. They drove one hour each way from the rescue center in Gonzales and worked in the city twelve to fourteen hours a day in teams of two people, following a list of addresses and a section of a map. Breaking into homes using pry bars, sledge hammers, or anything else they could find.
Sadly, many of the animals were already dead. No food, water or ventilation. The heat was unbearable. It was approximately 95 degrees F with 90% humidity. The volunteers were forced to wear suffocating gas masks because of the stench of decay and the thick mold growing in the homes. Animals rescued were starving, scared and sick. Many could not be caught. Over 50,000-75,000 were thought dead in homes. The Indigo Rescue operation rescued upward of 8,000 animals. Thousands are still roaming the streets wearing collars and tags, but not enough people are there to round them up.
The trip was exhausting (averaged 2-3 hours of sleep per night, sometimes the rescue team slept in their van with the engine running and the air conditioning on) and with very little food (lots of snacks and Powerade.) Everyone worked incredibly hard and no one ever complained. Indigo Rescue was on a mission! Most volunteers had not planned on bringing animals home with them (there were plenty in need) but they saw how many Pit Bulls were being left by the shelters and started taking animals back with them. The population of dogs there was more than 60% Pits. So Indigo volunteers selected five Pit Bulls and brought them back. All the rescued dogs were very sweet, intact and positive for heartworm (a fatal parasite) and other parasites. They were very sickly but Indigo treated their maladies and they got better slowly. The LASPCA told Indigo the dog population in New Orleans is 95% positive for heartworm. This claim might become an equal tragedy to the 75,000 animals who died subsequent to the floods, and perhaps kill millions of more animals.
For more information visit:  www.indigorescue.org
For the Best that Pet Lifestyle has to offer follow Wendy and Lucky Diamond on Facebook, Twitter, and right here at AnimalFair.com!
Comments
comments