A Purr-fect Balance of Luxury and Brawn That Will Have Your Two-Legged and Four-Legged Family Members Purring in Their Seats and Wagging Their Tails!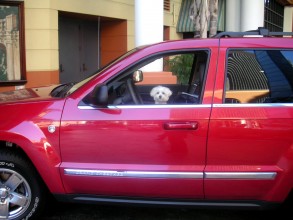 When it came time to build the third generation of Grand Cherokee, the engineers at Jeep set forth with their evolutionary marching orders of modernizing the Grand Cherokee's exterior, adding a brace of technological "cush" features on the inside, but at the same time maintaining the vehicle's true off-road capabilities. And just for fun, they thought that they should make its on-the-road ride a bit more comfortable. That's something human, canine and feline passengers can all appreciate. While these goals may seem to be at odds with one another, the 2005 Jeep Grand Cherokee handles the balancing act of luxury family transporter and hard core off-roader with ease.
The Jeep sheet metal surgeons started on the outside with a bit of nip and tuck that gives this Grand Cherokee a trimmer design with more chiseled styling features. All new jeweled intersecting circle headlights with integrated turn signals light the way when you are picking up the kids from an after-school soccer game, or perhaps blazing a new trail in the wilderness with your trusty four-legged, furry friend.
On the inside of the Grand Cherokee, Jeep has taken a clean-sheet approach. Upscale two-tone leathers coat the ergonomically designed seat made for long haul comfort. An available satellite navigation system will keep you from getting lost on your adventures. Now, if they would only add puppy pit-stop locations on those on screen maps, we would all breathe a little easier. The Uconnect Hands-free System links blue-tooth enabled cell phones without any wires or connectors. Music downloaders will be glad to know the Boston Acoustics stereo system is capable of playing MP3s.
More importantly, the Grand Cherokee has enhanced safety with side airbags that protect both the first and second row passengers. As always, it's good to remember to secure your pet with the appropriate harness that attaches your vehicle's seat belts; it's the safest way for both you and your pets. While all those new features are impressive, it's also good to know that the Grand Cherokee designers sweated the details with improvements such as a cargo area floor panel that is reversible, with carpet on one side and easy to clean plastic on the other, leaving those muddy paw prints on the carpet a thing of the past!
The 2005 Grand Cherokee maintains its "Trail Rated" status with a wide range of engine availability starting with the 3.7liter V6 and topping out with the best in class 5.7 liter Hemi motor that puts out 325 horsepower. There are three upgraded four-wheel drive systems to choose from and two refined five speed automatic transmissions available. Jeep is especially proud of its Dynamic Handling System (DHS) that reduces body roll on tight turns while increasing sporty handling characteristics. At the same time, another benefit of DHS is a softer more comfortable ride on the highway.
For 2005, Jeep has managed to master the balancing act of building an SUV that can take what tough trails have to dish out and still keep all family members, human and animal, happy on the highway.
Comments
comments