[First] on the continent of Africa and then throughout Europe, the dog delighted and seduced the merry photographic eye of John Drysdale. This African-born British photographer has been studying and photographing dogs – celebrating their rich personalities, venerating their intelligence and large-heartedness – for decades. His patience and playfulness, his endless capacity for joy and affection and humor, seem to mirror the spirit of the extraordinary dogs in his photographs. Luckily for us, seventy-two of Drysdale's remarkable dog portraits are published together here – for the first time in the land of the first dog.
Throughout this book, and often in the same picture, tenderness and (dog) dignity rub shoulders with the comic and the quirky. And with the wondrous: The variety of interspecies friendships pictured reminds us that dogs have a special genius for togetherness. Enchanted and enchanting, fully living in the marvel of the moment, these dogs are friends to the world. They have been caught by Drysdale's catlike camera while living their lives in full view of the world – living openly and busily and inquisitively, with an astonishing gift for adaptability, and with a manner uncritical and unfeigned. Each picture evokes the deep, abiding mysteries of dogdom and the enduring pleasures of mankind's oldest and most constant friend. And in each unique Drysdale dog we can see all dogs as they share an unconditional kinship with the world, a secret understanding, which unleashes love and lasts forever.
–Margaret Regan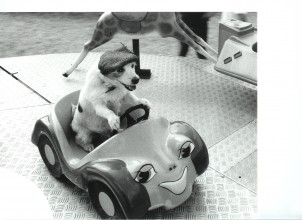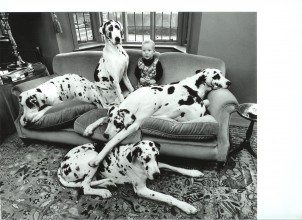 John Drysdale's is renown worldwide for his photography of the special and unusual bond between interspecies, often that of dogs with other God's creatures, and for his photographs of children. His awards include prizes from British Press Pictures of the Year and from World Press Photo. He lives in England.
For the Best that Pet Lifestyle and Animal Welfare has to offer follow Wendy and Lucky Diamond on Facebook, Twitter, and right here at AnimalFair.com!
Comments
comments