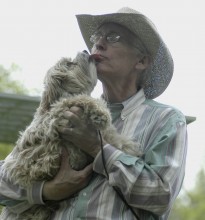 A new Benji film is coming to theaters this spring titled, Benji Returns: Rags to Riches. The movie continues the tradition that began with the 1974 hit Benji. "And this time, Benji is returning on a mission to make a positive difference in the lives of kids & homeless animals," says producer-director Joe Camp. Although there are humans in the Benji movies, the dogs are the true stars. There are no narrations or animation effects. The personalities and emotions of the dogs are conveyed through the animals' eyes and gestures.
Although Benji is short for Benjamin, the last three canines to play the part have been females with the second being Benji's own daughter. The latest star is also a female and has been christened Benji. As Joe Camp states, "She is Benji." Like her predecessor, she was saved from an animal shelter in Mississippi during a nationwide search. She along with her co-star Shaggy now reside with Joe Camp and his family of three kids, two goats, three cats and three other dogs. Joe says, "You can do business and good deeds at the same time."
The new Benji has been signed by the American Humane Association to become the face of their outreach programs in attempts to increase adoptions from shelters around the country. The journey began when the original Benji, named Higgins, was rescued from the Burbank Animal Shelter; a fact that's responsible for inspiring people to adopt millions of stray dogs, declared the American Humane Society. The publicity from the most recent Benji movie is expected to encourage even more animal adoptions.
Thanks to Joe Camp, this premier will be a fundraiser where all proceeds will be divided equally between the Mississippi Animal Rescue League (MARL) and the Blair E. Batson Hospital for Children. The MARL is a private, nonprofit organization that is supported through donations from the public. Provisions include, but are not limited to, sheltering homeless animals, low cost spay/neuter for low-income families and assisting law enforcement agencies with investigations of animal cruelty. They educate children on pet care and safety, and work with applicants to help select the best pet for their lifestyle.
Look for Benji Returns: Rags to Riches in your local theaters this year.
For the Best that Pet Lifestyle and Animal Welfare has to offer follow Wendy and Lucky Diamond on Facebook, Twitter, and right here at AnimalFair.com!
Comments
comments