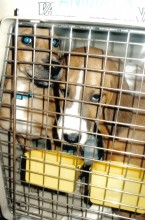 It's an amazing feat to witness the rescue and adoption of those in need, especially when it comes as the result of teamwork.  For one struggling animal house, a poor municipal shelter in rural West Virginia, this was just the reality. Built to hold no more than fifty animals comfortably, Mason County Animal Shelter was coming apart at the seams with more than 150 residents.
I had met Mason County Animal Shelter in cyberspace via a series of dissonant messages carrying a common cry for help.  This humble, open admission shelter operating on a budget well below the median income level of the average American captured my heart.  Every day is a race against the clock, trying to get the animals out alive.  One step forward, two steps back, we'd get a group to safety only to have more dumped in the night pen, a wire cage with a door where people throw strays and unwanted pets.  I would lay awake at night thinking about all the innocent faces I had come to know on the Petfinder (http://www.petfinder.org/shelters/WV39.html) site, wondering if the constant threat of euthanasia would do me in before it killed my four-legged friends packed five to a kennel. Death by carbon monoxide poisoning in an airtight gas chamber is far from humane.  But like so many other shelters in the United States, this draconian method is all the poor shelter had.
To appreciate this mission, it is necessary to understand how the rescue world works.  Shelters and rescue groups are linked together by a labyrinthine web in cyberspace.  Volunteer coordinators dispatch messages from the shelters they represent to "cross posters" who place the pleas for help on hundreds of Yahoo groups throughout the nation.   Most homeless animals find themselves on Petfinder (www.petfinder.org), the largest clearinghouse for pets in need.
We had limped along all summer under the raging southern sun, patching together ground relays of volunteer transporters to drive the animals to their destinations.  We were not keeping up with the constant influx of animals.  Operating under a strict euthanasia deadline mandated by the county commissioner, we were ordered to cut our population in half within a month's time.
Yvonne S., a young philanthropist had sponsored several of our animals, providing funds to cover veterinary costs for our least adoptable animals to increase their chances of being pulled to safety.  When our cries for assistance reached a feverish pitch, she knew we needed more than money.  She got on the phone and called every no-kill shelter and rescue group she could get a hold of in her area.  Homeward Pet (www.homewardpet.org) of Woodinville, WA answered the call.  Though it took a couple months to get this mission off the ground, Homeward's commitment to bring thirty-one pets into their organization was the promissory note we took to the bank.  And with that commitment we earned a stay of execution for our beloved shelter pets.
A director on Homeward Pet's board pulled strings with a major commercial airline, and convinced them to donate the necessary cargo space on four consecutive flights to Seattle-Tacoma International Airport.  Our devoted road warriors, a caring team of Northeast rescue groups, transported all thirty-one animals to Dulles International in Washington D.C. and prepared them for flight.  A Great Dane rescue group near the airport arranged overnight accommodations for those waiting their turn to board the plane.  KOMO TV in Seattle was on hand to provide exclusive coverage of the arrival of the West Virginia hounds as Homeward Pet opened their doors to a line of hopeful adopters that wrapped around a city block.  Little did we know, forty animals were saved on this mission.  Aileen, a pregnant Treeing Walker Coonhound, was carrying nine furry fetuses in a belly that burgeoned shortly after she arrived in Washington.  All of these beloved shelter animals are now in forever homes, cherished members of loving families.
Want to get involved? 
Dena A. Allen
Volunteer National Rescue Coordinator Based in New York City
Phone: (212) 580-2473
Email: dena@denaallen.com
For the Best the Pet Lifestyle, especially animal welfare has to offer follow Wendy and Lucky Diamond on Facebook, Twitter, and right here at AnimalFair.com!
Comments
comments