Animal Fair is proud to announce our 1st annual Five Dog Bone Awards. These awards will recognize pet-friendly hotels, airlines, animal shelters, destinations and products. Each year, in our spring issue, we will award those who have created excellence in their field throughout the year.
Animal Fair has very specific regulations when determining our annual Five Dog Bone Awards. Some award programs hire inspectors, but Animal Fair relies on our very own Lucky Diamond to inspect and evaluate pet-friendly establishments, companies, destinations, and products. Lucky, who has gone from the pound to being a part of the jet pet set, appreciates her humbling beginnings and what life has bestowed upon her.  Lucky is Animal Fair's traveling professional and the aficionado of canine luxuries.
Lucky Diamond is an extremely accomplished pooch that looks upon her position as an experience, an escape, and sometimes a necessity to the society of pets. Lucky requires the pet-friendly establishments, products, destinations and companies to provide top level dog hospitality, sufficient services, poetic ambiance, cheerful atmosphere and, of course, superb cleanliness. Animal Fair believes that these requirements are the bare minimum to be awarded the Five Dog Bone Awards. It's a 'dog eat dog' world out there, so it is absolutely necessary for Lucky to inspect the establishment, company, destination and product from top to bottom.
Once Lucky has accepted a pet-friendly establishment, company, destination and product into her heart, she recommends it to all her doggy-friends. Prospective award recipients should feel proud to have Lucky visit their pet-friendly facility, travel to their resort, hotel or destination, try out their product and be honored for being recognized with a Five Dog Bone Award.
Pet-Friendly Product
Origins Pet Care Products
In 1999, Origins, a division of the Estee Lauder Company, introduced their new line of pet care products. Lucky found these products to be absolutely essential to a busy dog's social schedule. She especially loves the Silky Coat Dog Shampoo. Origins created a gentle lather that silkens all textures of dog coats. It is perfect for dry, scaly skin. There's a plus! Not only does it smell great, it also helps protects against fleas with scents of lavender and citronella!
www.origins.com
Pet-Friendly Hotel
St. Regis in Los Angeles
Lucky pranced into her hotel suite to find her very own dog bed with plush pillows which she finds essential for her beauty rest. She feasted on the finest dog food and drank the freshest Evian water. After a relaxing rest, Lucky and her travel companion caught some rays from the beautiful California sun while lounging by the pool. Lucky then took an apre lunch personal walking tour around the grounds, led by one of the hotel's generous staff! And Lucky loved that there is no extra charge for dogs. Lucky felt very pampered, and came back to her New York life sun-tanned, refreshed and feeling like a new dog!
2055 Avenue of the Stars
Los Angeles, California 90067
Phone: 310-277-6111
Fax: 310-277-3711
www.stregis.com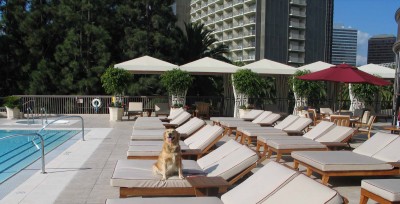 Pet-Friendly Resort
Las Ventanas al Paraiso
Lucky's jaw dropped the moment she set her sights on her Mexican home away from home. Nestled amongst the white sand dunes on the tip of the Baja Peninsula, Las Ventanas al Paraiso is properly named, "windows of paradise." As Lucky was escorted to her suite, she gazed out at the crystal blue waters of the Sea of Cortez through the traditional Mexican architecture of the resort. She enjoyed a sunlit supper of Rin Tin Tin (shredded braised beef and steamed rice) served in a metallic bowl studded with faux gemstones off the "Canine Delights" menu on her private patio. Once her belly was full, she gazed at the star lit sky through her personal telescope and fell asleep to the sound of the gently crashing waves in front of her adobe fireplace. The next morning she strolled down to the beach to spend the morning in her personal beach cabana and ordered the Doggie Delights, a selection of beef jerky, rawhides and doggy chews while her human traveling companion cooled off with sorbet served in a chocolate bowl. Lucky decided to get some afternoon exercise with a personal walking tour of the beach front and flower desert garden, while her companion went scuba diving and whale watching. Throughout the rest of her stay, she took in a stress-reducing neck massage, full body massage, grooming and of course, sunshine! She couldn't stop raving about the resort's full time chef who, in addition to the treats on the menu, prepared made-to-order meals for her anytime of the day! Las Ventanas al Paraiso is a paradise Lucky will be dreaming about for years to come.
KM 19.5 Carretera Transpeninsular
San Jose del Cabo
Baja California Sur 23400, Mexico
Phone: (011) 52 624 144 0300
Fax: (011) 52 624 144 0301
www.lasventanas.com
Pet-Friendly Animal Shelter
Humane Society of New York
Lucky was incredibly impressed with this shelter! She especially loved the staff members who are so wonderful and caring! Besides, her very dear friend Sammy Davis Jr., the one-eyed Pekingese, was kept here for over a year and a half before he was adopted. The Humane Society of New York is celebrating its 100th Anniversary and deserves congratulations for its superb service. What makes this place particularly special is that its staff provides emotional support and care for each of these rescued animals. Each dog participates in a rooftop run as a form of exercise and enjoys a daily outdoor walk. Felines aren't forgotten either, receiving playtime outside of their kennel. Animal behaviorist Bill Berloni, the Society's Director of Dog Training, provides training and evaluations for the adoption dogs. Even after adoption, Bill gives guidance and advice to new pet owners. Programs such as the Animal Mukti Free Spay/Neuter Program cover 100% of spay/neuter costs for pet owners. The best part of this shelter is that their doors are open to all kinds of animals, in sickness or in health. After all their hard work, this is by far a very deserving award! Lucky gives the Humane Society of New York four paws up!
306 East 59th Street
New York, New York 10022
Phone: 212-752-4842
www.humanesocietyny.org
Pet-Friendly Airline
Finn Air
Lucky flew on this airline and went into cahoots! She felt like a queen on an airborne yacht (not that she doesn't everywhere else!). Their pet regulations are not as extensive as some other airlines, which pleased Lucky immensely. You and your pet will have a great experience on your flight! As long as your pet is small and in a carrier for take off and landing, you are allowed to travel with your pet in the passenger cabin. And best of all, the flight attendants love pets and treat them great. Once you are up in the air, enjoy the sights from above with your little pooch!
Phone: 1-800-950-5000 (Flight Arrivals, Departures, Reservations, and Information) www.finnair.com
Pet-Friendly Destination
St. Petersburg, Russia
Lucky visited this country and fell in love! She has never had more freedom anywhere in the world. Upon entering St. Petersburg, there should be a sign proclaiming, "All dogs welcome!" This city is absolutely dog heaven! From the finest restaurants to the local McDonald's and pizza joints, Lucky was invited everywhere! She even attended the Philharmonic, where everyone loved her! Elmar Greif, General Manager of The Grand Europe Hotel, put it best when he explained to Lucky, "It's a free country!" St. Petersburg, Russia definitely tops the charts on Lucky's list of favorite destinations.
The Grand Hotel Europe:  www.petersburgcity.com
Phone (USA): 1-800-426-3135
Phone (Russia): (011) 7 812 329 6000
www.grandhotel-europe.com
For the Best that Pet Lifestyle and Animal Welfare has to offer follow Wendy and Lucky Diamond on Facebook, Twitter, and right here at AnimalFair.com!
Comments
comments