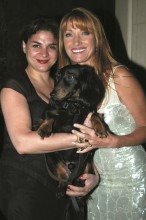 Over 500 of New York's luminaries and pet lovers gathered at NYC's Top Dog Gala, held at the Waldorf-Astoria, to raise $1 million for Animal Medical Center.  From the left: Elaine Langone, co-chair for the evening and Barbara Walters, who was Mistress of Ceremonies; Henry Kissinger and wife Nancy, who was also co-chair; Selva Ozelli and her "miracle dachshund" with Jane Seymour; Kathy and Rick Hilton; Lauren Bush, Ace and Kathy Greenberg, the evening's honorees, and Cynthia Phipps, Animal Medical Center's Board of Trustees chairman.
Kenji Koga Animal Art Bag Launch Party in New York City was the place to be for Kenji Koga, Wendy & Lucky Diamond, Demi Fowler & T. Matsura.
Donna Karan hosted a Benefit in support of the new New York City Animal Care & Control (NYCACC). (L to R) Jerry and Eleane Orbach capture a moment with Mary and the new executive director of the NYCACC, Ed Boks. Ford Model's Neal Hamil and his dog. Julie Halston, Harvey Fierstein, and Mary Tyler Moore. Ben, Elke and Maxy Gazzarra smile for the camera with their  hotdog.  Bernadette Peters takes a moment, from her co-hosting duties, to pose with Wendy and Lucky Diamond.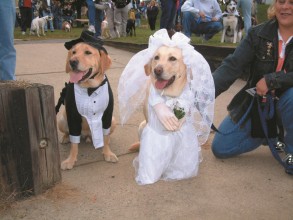 Two dogs decide to get hitched at the charity Doggie Chapel at the SPCA of Monmouth County and Red Bank Veterinary Hospital's Tenth Anniversary Pet Walk & Fair to benefit shelter animals in Monmouth County, New Jersey. The event was a huge success, raising over $91,000 for shelter pets! President of SPCA Board of Trustees Jacque McMahon and her dog Andrew partook in the day's festivities.
Oscar de la Renta takes a second look at Major Degan (dog-left) and Stella (dog-right) at the Elise Lufkin and Diana Walker's launch party for their newly released book, Second Chances, Tales of Found Dogs at Treillage.
Gerry Olin Greengrass and Sandy celebrated the launch of thier new book Bow Wow Yoga: 10,000 Years of Posturing at NYC's Friars Club with musician Rio Clemente, Amazing Kreskin, Sesame Street's Bob McGrath, Abe Vigoda of Barney Miller and Dominic Chianese, Uncle Junior of The Sopranos. Abe Vigoda and Gerry Olin Greengrass take a quick yoga posturing tip from Cocoa the dog.
For the Best that Pet Lifestyle and Animal Welfare has to offer follow Wendy Diamond on Facebook, Twitter, and right here at AnimalFair.com!
Comments
comments