Look out Eloise, there is a new resident in New York City's Plaza Hotel.  Meet Corneel.  The charming Cavalier King Charles Spaniel is the star of the recently released children's book, Corneel at The Plaza.  Originally from the rolling hills of Virginia, Corneel finds himself at the center of a dognapping plot where he makes a daring escape, culminating on the Plaza's red-carpeted steps.  Corneel is instantly befriended by the hotel manager's nephew Timothy, and is taken in to enjoy some of the finest rooms, dining and service the City has to offer.  Lucky dog!
The Plaza's staff named Corneel 'The Little Ambassador' for  spreading good will and lending a helping paw.
These days, Corneel isn't the only little ambassador at the Plaza.  The hotel also offers a Young Plaza Ambassadors program, where its young members may take advantage of exclusive educational and entertainment programs. As part of the program, the Plaza's Young Ambassadors enjoyed an afternoon tea with the real Corneel and some of his brothers and sisters, who were demonstrating some of their show-stopping moves.  Guests of the event were able to bring their dogs along to also indulge in some of the genteel treats that the Plaza is famous for.
Corneel at the Plaza, the second in a series written by Janet York and Rosemary Carroll, is available at the Plaza Hotel Gift Shop and selected Barnes & Noble Bookstores for the price of $17.95.  A portion of the proceeds will benefit the America's Fund for Afghan Children started by the White House.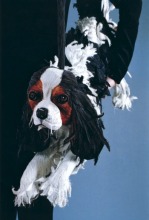 the fashion world knows corneel too.  priscilla snyder, renowned for her line of extraordinary animal-inspired bags, spent countless hours on her 1930's singer sewing machine, reproducing the prize-winning pup as a handbag for the dog's owner.
snyder has made over 100 one-of-a-kind pieces, from dogs and cats (all breeds!), to frogs, tigers, love birds, turtles, horses, alligators, and monkeys.  her bags come in all shapes and sizes as well, including shoulder bags, backpacks, fanny packs, change purses, and travel bags.
touted by the art and style industry as 'wearable art,' each bag is constructed with astonishing intricacy and detail, with such beautiful colors and patterns that some call her art 'painting with thread'.
priscilla snyder, new york city
For the Best that Pet Lifestyle and Animal Welfare has to offer follow Wendy Diamond on Facebook, Twitter, and right here at AnimalFair.com!
Comments
comments